Outstanding research assists student's return to Unitec
Unitec student Qi Yang is one of the first international students to return to study in New Zealand after the pandemic closed our borders last year, having had to delay her architectural studies for a year.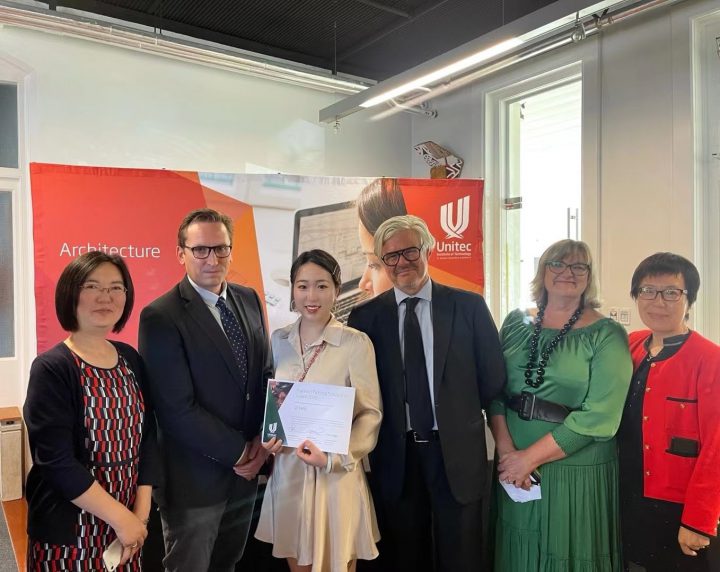 (L to R. Xinxin Wang, Peter McPherson, Qi yang, Matthew Bradbury, Sandra Potier and Grace Zhang)
Qi has been studying towards her Master of Landscape Architecture at Unitec and in early 2019 she returned to her home city of Changsha in China for the Chinese New Year.
Unfortunately, her holiday coincided with the outbreak of COVID-19 in Wuhan and when an emergency lockdown was invoked to arrest the spread of the virus, Changsha, which is the nearest city to Wuhan, was closed down the next day, meaning Qi was unable to return to New Zealand.
Although she felt safe being in lockdown and enjoyed being able to spend time with her family, Qi says it was challenging for her. "In January, I was looking forward to returning to study in February. To be honest, I felt very helpless because I didn't know how I was going to finish my study or if I would be able to return to New Zealand again."
As the pandemic eased and travel in China opened up, Qi was hopeful that she could soon return until Auckland went into lockdown in July 2020. She didn't waste her time in China though, gaining her Chinese teacher qualification, but never gave up on her goal of resuming her Architectural Studies at Unitec.
In December, Qi received exciting news from the Unitec that she could apply to be in the first batch of international students allowed to return to New Zealand. She quickly provided her supporting documentation to immigration and in March her and husband's visas were issued. After securing a booking in a MIQ hotel, Qi was on her way back to New Zealand.
"To be honest, I feel very honoured, and I am very grateful to the School for helping me be part of the first batch of returning international students. From landing at the New Zealand airport, quarantining at the Ibis Hotel in Hamilton, to returning to school to meet with the teachers, I've felt very lucky to have their help. Because of the enthusiastic help of the airport staff, the quarantine hotel management staff and all the teachers of Unitec, I've been well cared-for in New Zealand."
In 2020, Qi was awarded the Fred Tschopp post-graduate scholarship and her tutor Matthew Bradbury says winning it was a sign of Qi's potential as a researcher.
"Qi had made a good start with finding a great research project looking to ameliorate the stormwater contamination of the Ahuriri port in Napier. The Tschopp award is presented by the family to a Master of Landscape Architecture student who they believe is carrying out research work that builds on Fred Tschopp's landscape practice in New Zealand.
"Fast forward to this year and the government decided to make an exception for international students whose research work in New Zealand was of such importance that they should be allowed back to New Zealand. Qi 's valuable research work met this criteria, so she has been allowed back to resume her study. We are very happy to see her again and are looking forward to her rejoining the programme in July."
Her supervisor Xinxin Wang says Qi deserves the scholarship recognition. "Qi paid close attention to Napier's coastal flooding and its impact on the local communities. Her return means she can continue with her research and make design contributions to the real-world issue."
In the coming year, Qi hopes to complete her thesis and graduate. "I have to say thank you to my tutors, the visa team and support team of the School because of their patience in helping me. Also because of the School's teaching policy, I was able to find a landscape design internship opportunity after returning. I am honoured to be able to study at Unitec, and I also hope that more international students can choose Unitec and that COVID-19 will disappear soon so that more students can come back."
---