Māori and Pasifika Careers Super Fair an outstanding success
New Zealand's first dedicated Māori and Pasifika careers fair was an outstanding success with more than 750 students and 41 companies taking part in the virtual event.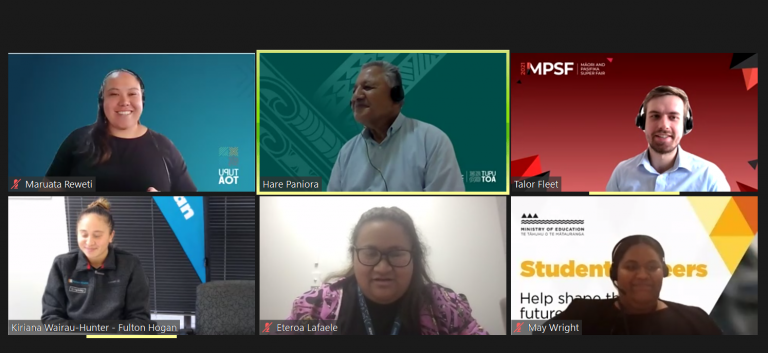 (Host: Talor Fleet (Prosple), Intro and karakia- Hare Paniora, Maruata Reweti-TupuToa, Programme Manager, May Wright-Ministry of Education, Assistant Advisor Inclusion, Kiriana Wairau-Hunter- Fulton Hogan, Graduate Civil Engineer, Eteroa Tusipepa Lafaele- Xero, Developer Evangelist)
Ten ITPs co-hosted the virtual event, which was open to all Māori and Pasifika students from across Aotearoa/New Zealand exploring internship and graduate programmes designed for them.
The fair was run simultaneously on the career directories of Unitec, UCOL. WITT, MIT, Toi Ohomai, Wintec, Whitireia/WelTec, Otago Polytechnic, Ara and Gradmahi.
Unitec's Pae Ārahi Hare Paniora opened it with a karakia, followed by a panel session with Tupu Toa, the Ministry of Education, Fulton Hogan, and Xero.
For the remainder of the fair, students met employers in their booths. The time was broken into three half-hour blocks. During each block, exhibitors presented on a particular topic, conducted speed interviews, or had open Q & A sessions.
The 41 organisations that participated included construction and engineering companies, retailers, computing and accounting, healthcare providers as well council, public service and the financial sector groups. The engineering and construction sector attracted the strongest interest, followed by the public and service, financial sector, software, and education and training.
Pleasingly, 75 percent of attendees said they were now considering applying for jobs with employers who had participated in the fair.
Heather Stonyer, Unitec's Director of Industry Partnerships, says the success of the Fair was an example of how targeted events like the Fair encouraged participation by learners who may have previously not attended.
"Maori and Pasifika graduates are highly sought after by our participating industries who are wanting to grow their workforce and at the same time increase its diversity. The Career Fair successfully links our learners and graduates with these industries making them aware of the increased opportunities available to them as Maori and Pasifika graduates."
"This event also reinforced the collaborative relationship among the ITPs, which is a reflection of how Unitec lives its Te Noho Kotahitanga values by ensuring that we support our learners, especially those in our priority groups."
Watch a panel session from the event here
More career fairs are coming up in August and September. More information here: UPCOMING SUPER FAIRS IN AUGUST
---