He ringa āwhina ki ngā take mōrearea ā-whare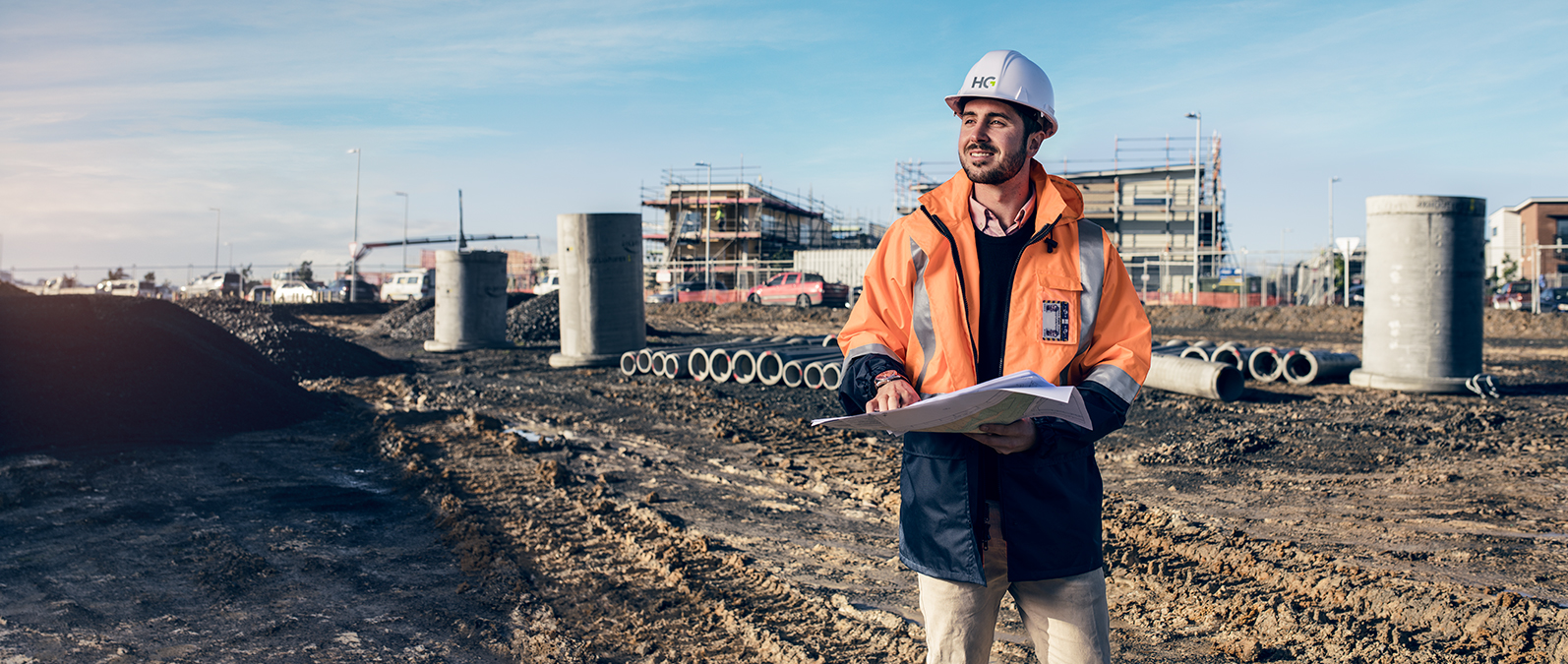 He mea whakamāori e TeUrikore Biddle
"The housing crisis in Auckland is a big talking point at the moment. It's affecting families, students, and long-term renters. We need more homes in the Auckland region, and we need them now," says Andrew Long, who is two papers shy of finishing his Bachelor of Engineering Technology. He was involved with a number of live projects throughout his time at Unitec, but working on the Hobsonville Point development was a particular highlight. "The work helped to ease the pressure on Auckland, and that gave me a real purpose in my work," says Andrew.

Ko te mōrearea ā-whare he kaupapa e kaha kōrerohia ki Tāmakimakaurau. He mea pā tēnei kaupapa ki ngā whānau, tauira, ki te hunga kua roa nei e reti ana i ō rātau whare. Ko te whakahau a Andrew Long "Kia nui ake ngā whare ki te rohe o Tāmaki ināia tonu nei". E rua noa iho ngā pepa e toe ana ka oti i a Andrew tōna Tohu Paetahi Pūkaha Hangarau. He nui āna kaupapa mahi ki Te Whare Wānanga o Wairaka heoi anō ko te mea hirahira mōna ko āna mahi ki Hobsonville. "He kaupapa āwhina tēnei i te tāone o Tāmaki na konā i aronui ahau ki aku mahi", te kōrero a Andrew.

Andrew worked on the drainage infrastructure and vehicle accessways for a superlot development within Hobsonville Point. He was the lead engineer for the detailed design and construction observation of the stormwater/wastewater. With such a complex task, Andrew was well aware of the pressures. "In a working environment where everything is needed yesterday, nobody is going to force you to follow the quality assurance procedure, it's something you need to factor into your timelines."

I mahi ai a Andrew i ngā whakatakotoranga wāra me ngā huarahi mō ngā waka mō tētahi whakawhanake whenua nui ki Hobsonville Point. Ka noho ia hei kaihautū kaipūkaha i ngā āhuatanga hoahoa, me te hanga anō hoki i ngā wāra ngāekieki wai me ngā paru. I te tino mārama a Andrew he aha ngā taumahatanga i runga i a ia kia tūtuki pai ngā mahi. "I roto i te ao mahi ka rongo koe i te āhuatanga o te tere tūtuki i ngā mahi i taua wā tonu, ā ēhara i te mea ka tōpana koe ki te whai i ngā ture, heoi māu tonu tērā e whakaarohia e tūtuki tika ai ngā mahi".

That's where industry professionals come in. "It's easy to get tunnel vision after staring at the same set of plans for days on end, so a fresh set of eyes can pick up any potential design issues," Andrew says.

Andrew was working with Will Platts during the project, a Team Leader from Harrison Grierson who was always there to help out. "I let Andrew lead the project, and only stepped in when needed. Unitec students have been learning real skills throughout their qualification, so they're really switched on," says Will.

Koirā te pai o ngā tohunga. "Nā te roa o te mātirotiro ki ō perene ka uaua te kite i ngā hapa hei whakatikatika i ngā āhuatanga hoahoa, ēngari koianei te hua o te mahi tahi me tētahi toki ki te mahi i ēnei mahi".

Andrew agrees. "It was good to have the freedom to develop the plans as I saw fit, but it was reassuring to have someone to talk with about any potential issues."

E whakaae ana a Andrew, "He rawe te whakarite i ngā mahi ki tāku i kāwata ai i runga anō i taku mōhio he toki, he tohunga e āwhina ana I ahau ki te ara ake he raruraru, he aha rawa rānei".

This is where the real value of industry professionals became apparent. Will saw his support role not only as a mentor but also as a guide to help Andrew deal with some of the external pressures. "Andrew was more than capable of handling the demands of big property developers, and I was proud of the way Andrew handled himself in certain situations. Of course, I was always here for him if he ever needed me, but he already had the skills to manage any difficult request or issues.

Koinei ngā wā i tino whai hua te noho mai o tētahi toki nō te ahumahi. E ai ki a Will ko tāna mahi he kaiāwhina, kaiārahi mā Andrew ki te hiki i ngā taumahatanga. "He kakama a Andrew ki te tūtuki i ngā mahi, whakahīhī katoa ahau ki tērā āhutanga ōna. I noho ahau hei hoa haere mōna ēngari i a ia ngā pūkenga ki te tūtuki i ngā mahi ahakoa he aha ngā kaupapa uaua i ara ake.

That's why Andrew values his time at Unitec and the hands-on nature of his study. "At Unitec, you learn more skills than just the theory. I'm able to deal with clients, manage projects, and be work-ready when I graduate. It gives me real confidence to know that on day one, I can handle the job and perform to a high standard," he says.

Nā te āhua o tāna mahi, me tāna noho i whai hua ai a Andrew mō te roanga o tana mahi ako ki Te Whare Wānanga o Wairaka. "Ka akonga koe ki ngā pūkenga me ngā mahi ariā. E āhei ana ahau ki te mahi tahi me ngā apataki, ki te whakahaere kaupapa, ā kua rite ahau ki te puta hei kaimahi o tēnei ahumahi ka oti i ahau i taku tohu. He tino kaha taku whakamanawa ka eke i ahau ngā mahi ki te ikeietanga" te kōrero a Andrew.
---
Find out more about studying Engineering at Unitec: