Get Ya Dot at IRA.DOT - GotYaDot 6 and 7 November 2021
This weekend, November 6 & 7, Unitec will be supporting the IRA.DOT - GotYaDot campaign running across Tāmaki Makaurau to encourage our whānau, hapū, iwi and all our communities to get protected.
As summer beckons and Auckland inches towards the 90% protected mark, Unitec staff and students are enthusiastically supporting a rangatahi led campaign that encourages people to get 'dotted' from Covid-19.
Unitec current and former ākonga, as well as staff, will be assisting on-site at one of the five locations, the Te Kura Kaupapa Māori o Hoani Waititi Marae in West Auckland.
The IRA.DOT campaign was conceived by Māori musician Pere Wihongi and other rangatahi as a way to remove some of the fear and stigma people may have about getting vaccinated, especially our youth.
In an interview on Radio New Zealand, Pere said he wanted to find a way to change people's perspectives by changing the kaupapa around vaccinations and came up with the concept of getting 'dotted'. In the same interview, Ngāti Whātua Orākei chief executive Rangimarie Hunia said the meaning of Ira Dot went far beyond the physical and "goes straight to the heart of what matters most, being able to connect with one another again."
It is a message that certainly speaks to Unitec whānau, who are missing the connection of working, meeting and learning together on campus.
As part of the West Auckland and wider whānau, Andrea Thumath, Director - Under 25s Success, says it is vital we support our community and contribute to keeping our current students safe.
"Unitec are heavily involved with our secondary schools and the community in the West, so partnering with Hoani Waititi Marae makes sense for us. It's a real privilege for us to partner with them and have our own staff and students support the event in clinical and non-clinical roles."
Luke Orbell, a Unitec student council representative, says they fully support the kaupapa which involves students, especially supporting tauira in spaces where there is hesitancy or uncertainty.
"Ira Dot is one of those spaces where tauira can feel uncertain to engage, therefore USC's involvement ensures the barriers holding tauira back start to break, making it easier for them to access these incentives. We are a diverse team representing a diverse student body who believe Ira Dot is a great kaupapa to solidify the safety of students, staff, and our whānau."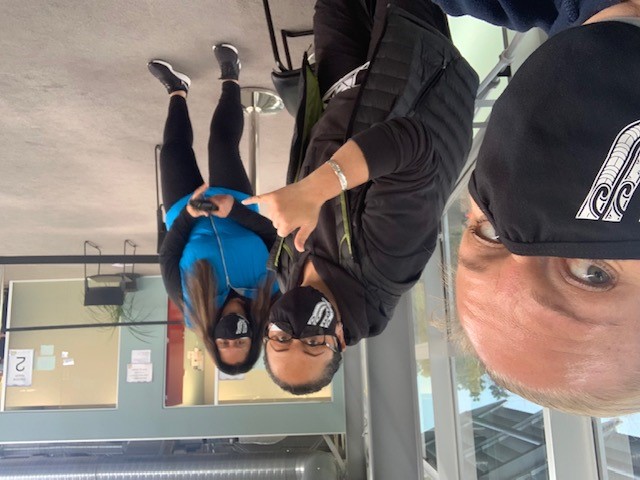 Along with Andrea, Toni Vaughan - Taharangi - Director Māori Success and Annette Pitovao - Director Student Success, were receiving training from Dr. Rawiri Jansen and the team at the Tāmaki Vaccination Centre this week so they can help with vaccination and post-vaccination observation.
"It's an absolute privilege and honour to support Te Kura Kaupapa Māori o Hoani Waititi Marae to drive a very important community kaupapa. As our facilitator Dr Rawiri Jansen said, COVID-19 vaccination saves lives," says Toni.
Annette agrees, saying it is an absolute honour for her to participate in the fight against COVID in this small way.
"It's tangible actions that speak louder than any words can. Our healthcare workers are tired, stressed and been under a lot of pressure so the least I can do is to help them by being an active backup support. By becoming a vaccinator, I can hopefully take some pressure off others and demonstrate servant leadership in this small way. Thankfully I don't have a problem with needles and chatting to strangers while they get their dot. I admire anyone who thinks (and acts) more about the safety of their whānau, family, aiga, and loved ones before themselves. The collective act is far greater than the individual alone."
To get dotted this weekend, you can attend five locations across Tāmaki Makaurau/Auckland:
WEST – Te Kura Kaupapa Māori o Hoani Waititi Marae supported by Unitec
NORTH SHORE – Westlake Boys supported by Auckland University of Technology
EDEN PARK – Ngā Puna o Waiorea supported by Auckland University
OTARA – Kia Aroha College supported by AUT
MANUREWA – Te Kura Kaupapa Māori a rohe o Māngere supported by Te Wānanga o Aotearoa
Come along and get dotted if you haven't already – plus there's never been a better time to have a kōrero and encourage the young people you know to get dotted as well.
For more information about the 'Got Ya Dot' kaupapa and other sites where you can 'Get Ya Dot' this weekend, visit their website Ira.Dot or Facebook GotYaDot