Flourishing housing market opens real estate opportunities
You certainly don't have to look far to find the latest news on the Auckland property market. Across mainstream media, social media and the word on the street, it appears all roads are leading to soaring housing prices, booming developments and competitive auctions.
Although the housing market presents positives for both buyers and sellers, it's hard to ignore the effects these trends are having on those seeking a career in this industry. Real estate and property job listings across New Zealand increased 18 per cent between 2015 and 2016, according to SEEK. This figure tops 27 per cent in Auckland alone.
Keen to take advantage while the auction hammer is hot? We sat down with Manager of the Real Estate Programme at Unitec, Mary Crotty for all the details.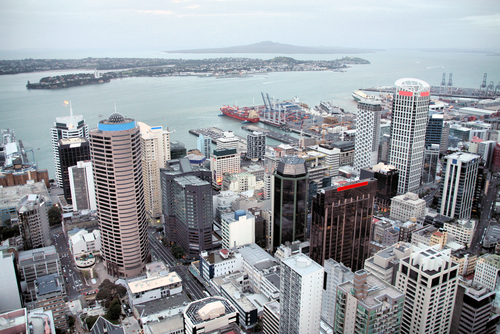 Auckland's booming property market is fueling industry growth.
Real estate knowledge becoming vital
For Mary and her teaching staff, there has been a noticeable increase in the number of students interested in the New Zealand Certificate in Real Estate (Salesperson). As mentioned above, the opportunities in the Auckland real estate industry are a major driver, but Mary explained other reasons why.
"Often, students are connected through their families who are undertaking developments in property at the moment," she said.
Across Auckland, there are major commercial and residential property developments underway. As a way to keep skills in-house, many people are attending Unitec to learn the rules and laws of real estate with the view to sell these developments to market.
It's important to remember that the certificate is an entry-level course. This means it can serve the requirements of students across the spectrum as the skills and knowledge can be applied in many ways.
"People see the real estate industry as a way in which they can participate in a high value career. If you can be a successful salesperson, then this is a good avenue of making a lot of money," Mary noted.
"Some students come into this industry who do not have a lot of education or a career background. However, this course can support these people into a higher income career."
Interestingly, other students in the New Zealand Certificate in Real Estate have no intention of moving into the industry. In essence, this group want clarity on how the regulations impact the buying and selling of their own property.
Studying real estate at Unitec
One of the misconceptions about the level 4 New Zealand Certificate in Real Estate (Salesperson) course is that it's easy. However, as students who complete the course can apply directly to the Real Estate Agents Authority to obtain a selling licence, the skills and knowledge required is high.
"As much of the course content is about law, there is a lot of highly technical legal information that students need to understand and be able to apply in real life," Mary explained.
"This course is very applicable to the work that students will be doing in the industry - they are very closely aligned."
Real estate is about connecting people with property.
Why study real estate at Unitec?
Unitec is all about preparing students for industry work and this is perfectly demonstrated in this particular course.
Students are regularly visited by guest speakers who are current professionals in the real estate sector, whether this is in advertising, marketing, auction or sales. This is complemented by six hours' work experience in a real estate branch office, with assessments conducted in the field.
"Students can go into the workplace, see how it works, what goes on and understand how to do the job," Mary said.
The New Zealand Certificate in Real Estate (Salesperson) course takes place multiple times a year at the Mt Albert campus. If you'd like more information about this course and how it can support your career ambitions, feel free to get in touch with our team today.
If you've completed the New Zealand Certificate in Real Estate and want to develop an understanding of the Property Development industry, we offer the Bachelor of Construction (Property Development) where students gain insight into the valuation and management of property and property portfolios, and learn to plan and carry out the purchase, development and sale of new or existing properties.
---
Study Real Estate New Zealand Certificate in Real Estate Order Brochure