Exhibition experience for students in Eden Arts
Frances Roberts' Fourteen, 2017 Rear projection was one of six Unitec student artworks displayed as part of this year's Eden Arts Art Schools Award exhibition.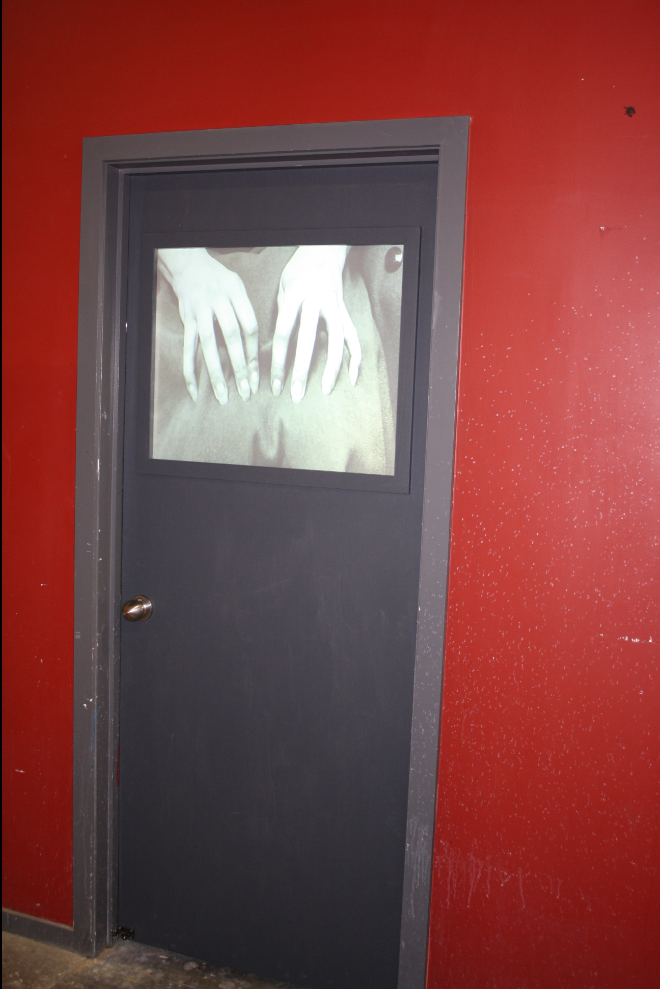 Her work, a solid door with an inset window, was purpose built to mimic the architectural features of the Whitecliffe gallery. Through the window, viewers are mesmerized by a mix of comforting and disturbing images: pelting rain, a faceless girl's hands clenching on her lap, a gigantic eye and a someone in homely slippers vacuuming loud geometric-patterned carpet.
Frances says the work is an exploration of a teenage memory. "I wanted to explore and represent my personal connection between anxiety and the safety and comfort of home." Other Unitec student works included Danae Ripley's Impetuous Change, 2017 Oil on canvas, Hayley Theyers' I Had Too Much to Dream Last Night, 2017 Video Installation, Jess Maree Smith's The Roseate Perception, 2017 Acrylic on wood, Siobhan Nathan's Child Abuse, 2017 Video projection and audio and Chris Kernohan's Typography/Hypnotism, 2018 Projection.
Paul Woodruffe, Academic Leader for Creative Industries at Unitec is credited as having the original thought to start the exhibition which brings together Central Auckland's four major art institutions: Whitecliffe, AUT, Elam and Unitec. Paul Johnston of the Eden Arts Community Trust says the exhibition is important for young artists for three reasons. Firstly, it is a moment for students to step into the unknown and become an independent artist, secondly to move into the serious process of exhibiting and finally to be of service to the art community.
---
Find out more about studying Creative Industries at Unitec:
Creative Industries Bachelor of Creative Enterprise Order Study Guide