Event Management students are just like "seasoned professionals"
Unitec's Event Management students are working with Coastguard Auckland to help raise money for a new rescue vessel, as part of their coursework.
Students were briefed in the first week of the semester by both Unitec staff and Coastguard Auckland. In the fourth week, they presented their ideas for a fund-raising event to an expert panel that included respected members of the business community, Coastguard Auckland and Unitec staff.

"Panel members were incredibly impressed with the standard of the presentations given by the students," says Mike Purchase, president of Coastguard Auckland.

"Not only did they adhere to the project brief, but they had clearly put in a lot of work to understand the client, presented six great concepts, and delivered their presentations like teams of seasoned professionals. We're really excited to be working with them as we bring the project to fruition in the coming months."

The new collaboration between Unitec's Business Practice Pathway and the charity organisation, the Propel Project, is being piloted this semester. If all goes to plan it will run for three years.
Ideas presented included a Golf Day and a Brunch 'n' Beats daytime family event. The panel eventually decided on a dinner/cabaret evening, which would incorporate several of the other ideas presented, and wouldn't be dependent on the weather.

The event will be held on Saturday 3 June, giving the students around two months to plan, organise and promote it.

"I was delighted with the standard of presentation," says Shaughan Woodcock, lecturer in Event Management for the department of Communications Studies. "Especially as they did that within four weeks and only four class times with me - the rest coming from their own personal time."

Rachel Moana, who is studying for a Bachelor of Communications majoring in Event Management, has worked on real events and with real clients as an intern. She's excited to be working with a real client as part of her coursework. "And the fact that it's for a worthwhile cause motivates you so much."

The Project provides exactly the kind of practical experience Event Management students need, she says. "We're actually doing something that we can point to on our CV, and say, 'we did that' ... It goes beyond the theoretical."
"And if we muck it up, it's not just us who will be affected, which is very motivating. It's also more satisfying if we do well."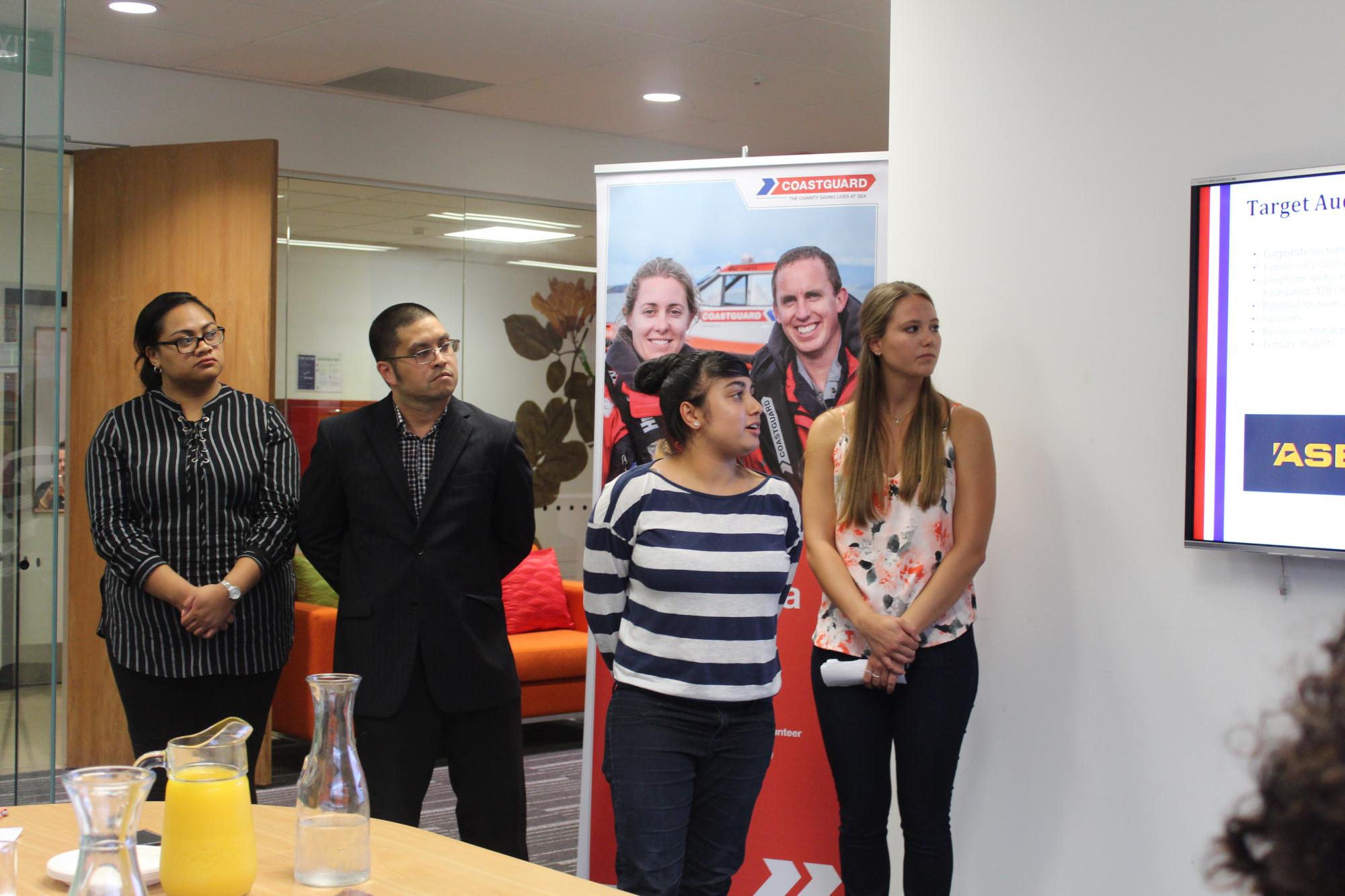 Shaughan says the collaboration is a fantastic opportunity for students to work with a real client with real needs, and to deliver real, tangible outcomes.

"It's very important that our students get some of that real life experience, of what it looks and feels like to pitch and win a project and then deliver that project.

"It's going to be intensive, but this would be typical if you started a job working in a small business, when you typically have to hit the ground running."

The Project gives Coastguard Auckland the chance to harness the creativity and talents of Unitec students. The organisation is committed to ensuring that the partnership offers a valuable learning experience for students as well. "We want to give students a chance to put their coursework into action in a real life situation," says Mike Purchase.

If the charity organisation is the client, Unitec students will act as a kind of consultancy firm. "But a lot of organisations fall into the trap of saying, 'oh we'll get consultants in and they'll do it all for us'.

"But we're committed to our side of the partnership, so throughout the semester we'll be on hand to give the students' real insight into the way we operate, what we need funding for, the importance of our brand and its heritage and values. And hopefully the students will generate some creative and interesting ideas."

Unitec expects that after the pilot this semester, the Propel Project will be open to all Unitec students who want experience in event management, either to earn course credits or gain real-life experience.