Delivering the future of marketing
With 93% of a customer's buying decision influenced by social media, it's little wonder that social media advertising is crucial. This statistic coupled with the fact that Facebook remains the most popular social media platform in Aotearoa, makes Facebook advertising a must have.
For Graduate Diploma of Business (Marketing) student Carl Albert Villaluz and Unitec Marketing Communications Manager James de Clifford, Facebook plays an important role in the 'Learning in Action' recruitment project. Students are on Facebook and love viral, engaging content so it makes sense to take advantage of marketing tools in this space.
To learn more about the Learning in Action Facebook ad campaign and how this opportunity is supporting students like Carl in their career ambitions, we sat down with James and Carl.
Unitec as a creative client
Carl and his fellow students in the Graduate Diploma of Business have just completed their digital marketing module, looking particularly at Facebook ad campaigns. As part of their course requirements, students work with a real-world client to plan, develop and follow through a social media campaign from start to finish.
This year, Unitec itself was a client and Carl, with his group, were lucky enough to get the chance to work on the Learning in Action event as part of his course work.
"As part of our Facebook ad campaign, the goal is to create online awareness about the Learning in Action project that saw Unitec students create and develop a uniquely Unitec drink. We have to complement the many offline activities with a similar campaign online," Carl said.
"To reach the target audience, the task is to drive traffic from Facebook to the Learning in Action landing page."
Carl and other marketing students are only part of the project - the Learning in Action project spans various different departments, focussing on collaboration and active learning.
"We've already created several ad sets and within these, the themes of Unitec marketing. This includes 'Think.Do.', the umbrella unique selling proposition of Unitec," he said.
"We started working on the Facebook ad campaign in September with each student given the task to create an individual ad set based on themes. This was where we worked closely with Unitec's own marketing department with posting and content."
Relationship between students and Unitec
Unitec has a clear focus on real-world learning - a mantra that has certainly come into its own on the Learning in Action project. Unitec's Marketing Communications Manager, James, acted as the client, working with Carl and the other students to develop a clear and concise Facebook campaign.
"As a team, the students looked at how the campaign was going to be promoted and then activated it to current students. For me, it's been a case of providing an overall understanding of what the project sets out to achieve, to then work with the students to find a solution and the best outcome," James explained.
Throughout this part of the project, James said that he was amazed by the level of knowledge, insight and understanding from the students, including Carl.
"What stood out for me was the technical knowledge of the students and their ability to plan things fairly accurately to determine what needs to happen. It's easy to go full steam, but when planning is in place, it ensures a good result and that the brief is delivered on" he said.
Practical learning - a real highlight
For Carl, his involvement in the Learning in Action project is more than just about the grades. This is the real-world challenge that he's been waiting for, and is excited about what this could mean for his career ahead.
"It's now not enough just to learn the theory in the classroom. This Facebook ad campaign allowed us to implement our learning in a practical sense," he said. "As a student, these experiences can help us once we step out of education and into employment."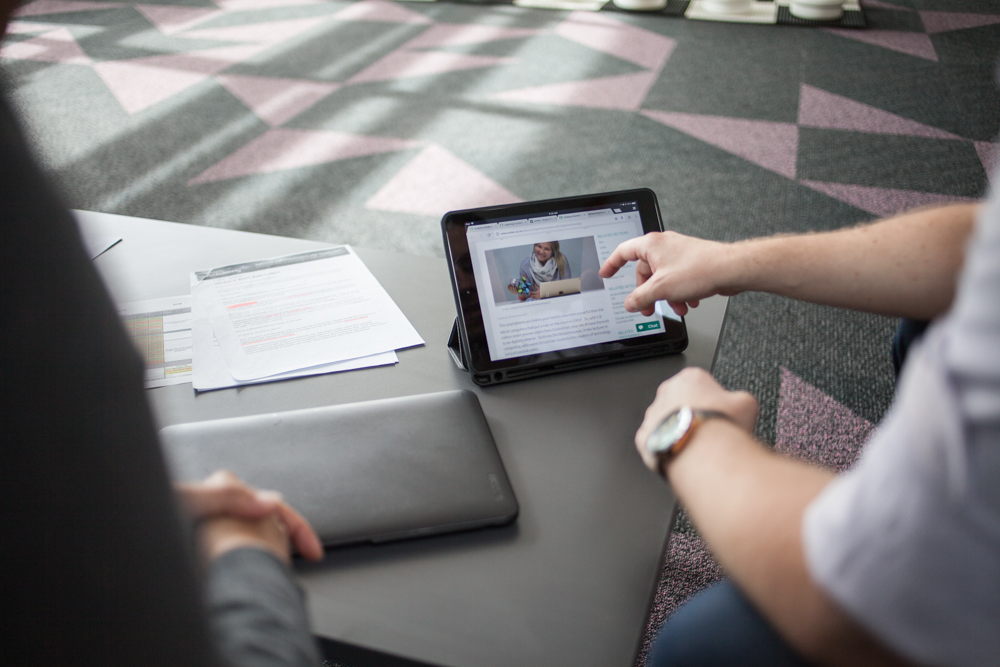 James echoes these sentiments citing that within the environment of Unitec, students can make mistakes, learn from them and be better prepared for life after study. This philosophy of active learning supports students through their learning experience, and provides the processes and resilience needed when working in industry.
"It's really good to be able to help the students as they go - essentially guide their journey. It's not a case of doing the work for them, it's about being there to support and help out," James said. "Our goal is to work on the fundamentals of Facebook campaigns that will in fact apply to any client and any project."
The students did this project as part of the Graduate Diploma in Business (Marketing) programme, however our Social Media Marketing short course can be taken independently.
---
Find out more about studying Digital Marketing at Unitec: