Confronting race with courage
Unitec has further cemented its commitment to equity and diversity by hosting Courageous Conversations about Race author and anti-racism activist Glenn E. Singleton for workshops promoting better understanding of the impacts race has on education.
With a student body over half made up of Maori, Pasifika and Asian students Unitec today is a reflection of how Auckland will be in 10 years' time.
Having such a diverse population demands a learning environment that both understands and respects different cultures. Creating such an environment does not happen by itself and does not come without challenges.
But making the kind of place where all people can succeed is something Unitec is actively working to achieve.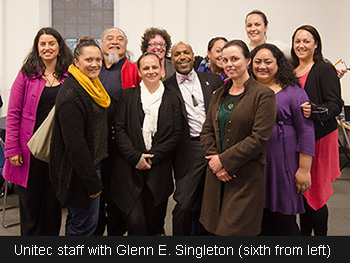 The latest example of these steps was a visit by American author and anti-racism educator Glenn E. Singleton. Singleton is an expert on the importance of race and culture in the way we interact with the people around us. Through his Courageous Conversations about Race books and process, he has had a significant impact in the school and tertiary sectors in the US and Australia on reconciliation and understanding between people of different racial.
Singleton is working with 16 Australian education institutes to bring issues of race and education into sharper focus and his link with Unitec is his first foray into New Zealand. He was invited to run workshops here by Unitec's Equity and Diversity manager Matthew Farry, who says racial equity is a key to the success of the school and the communities it serves.
"Unitec now joins a three country South Pacific Plan," Matthew says. "We are the first tertiary organisation in New Zealand to say we need to have those conversations."
At a welcome at Te Noho Kotahitanga Marae Singleton said the key to successful education is not a single-minded focus on delivering course material. The relationship formed between teachers and students is also critical and must be "grounded in reality".
"This is the key in education right now. Most educators will indicate the heart of learning and teaching is the relationship, and the relationship has to be grounded in reality - it can't be grounded in the subject matter."
This means acknowledging and accepting the differences among us, including race, which can sometimes be an uncomfortable experience.
"If you can't differentiate the students how can you differentiate what their needs are?
"My conundrum has always been, can't we have quality education and not have to sacrifice our cultural traditions and imperatives? Do we have to adopt a dominant racial perspective and culture in order to be successful?
"My answer to that is categorically no."
His Courageous Conversations about Race protocol is designed to help people navigate the discussions needed to resolve issues of racial equity in education.
"The reality is we don't have the solution yet so we continue to work towards progress."
Unitec CEO Rick Ede says engaging Singleton is an important step on the path to a truly equitable environment.
"We know we are still on the journey of achieving equity of success for our Maori and Pacific learners, and to do that we have to find ways to engage with our learners on their terms."