Living and working in Auckland
Auckland has consistently ranked as one of the 5 most liveable cities in the world – with its stunning natural landscapes and meticulously designed built environments that offer a perfect balance of outdoor adventures and urban amenities.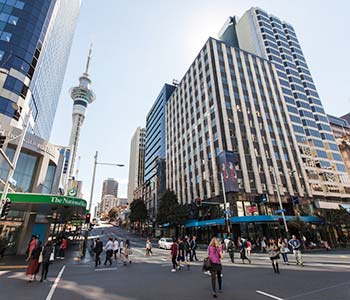 We enjoy a mild year-round weather. The warmest months are December, January and February, and the coldest June, July and August. In summer, the average maximum temperature ranges between 20-30°C and in winter, between 10-15°C.
Auckland is also the fastest growing region in New Zealand in terms of economic and population growth. It has an estimated resident population of 1,459,700 (Statistics New Zealand, 2010), the majority of which is made up of European settlers (63 percent), Pacific Islanders (13 percent), the indigenous Māori (11 percent), and Asians (12 percent).
Auckland offers vast opportunities for professionals to contribute to its future growth areas namely, Biotechnology, Information Communications Technology and Creative Industries (such as Advertising, Software & Computing Services, Media, Architecture, Designer Fashion, and Performing Arts).
NZ tertiary education
Tertiary education in NZ is provided by state funded universities (8), institutes of technology & polytechnics (20) and wānanga (3), as well as by registered private training establishments (734) and other providers (13).
Unitec is the largest institute of technology in New Zealand and is located on two campuses in Auckland – Mt Albert (main campus) and Henderson (Waitakere campus). It caters to the needs of a large and diverse student population enrolled in courses ranging from certificate level to doctoral programmes.
Unitec aligns itself with the aims of the Tertiary Education Strategy (2007 -2012) of the NZ Ministry of Education through the provision of "lifelong learning; creating and applying knowledge to drive innovation; and strong connections between tertiary education organizations and the communities they serve."
More info