Building is his life's business
Cedric Folaumoetui completed a Certificate in Applied Technology- Carpentry (This programme is replaced with New Zealand Certificate In Carpentry) at Unitec in 2019, becoming the first Pasifika winner of the New Zealand Certified Builders Apprenticeship Challenge that same year. Since then, he's gone on to study a Bachelor of Construction and started his own building business. We spoke to Cedric about his busy journey so far.
After leaving Onehunga High School in 2005, Cedric studied an Arts degree in Criminology at Auckland University, before making a complete U-turn and deciding to pursue his passion for construction.
"I'd always loved building, and I knew I wanted to work with people. When I finished my degree and started thinking about my future, I realised I didn't want to spend my life working for someone else! Starting my own construction business became my goal - and Unitec has helped me get there."
Cedric started a Certificate in Applied Technology - Carpentry (This programme is replaced with New Zealand Certificate In Carpentry) in 2016 while working full time as a builder. This juggle continued when he began his Bachelor of Construction in 2020.
"I've worked full time for Kiwi Construction as an Apprentice builder throughout my studies. When I started my Degree, I was able to cross credit some of my Diploma papers but had to complete the others around my job. It's been hard - I've basically sacrificed six years of my life to get to where I am today! But it's given me an enormous amount of experience. I'm now trade certified and have my licence, it's opened up so many doors for me."
Cedric's hard work was recognised when he was named New Zealand's top Apprentice at the 2019 New Zealand Certified Builders Apprenticeship Awards.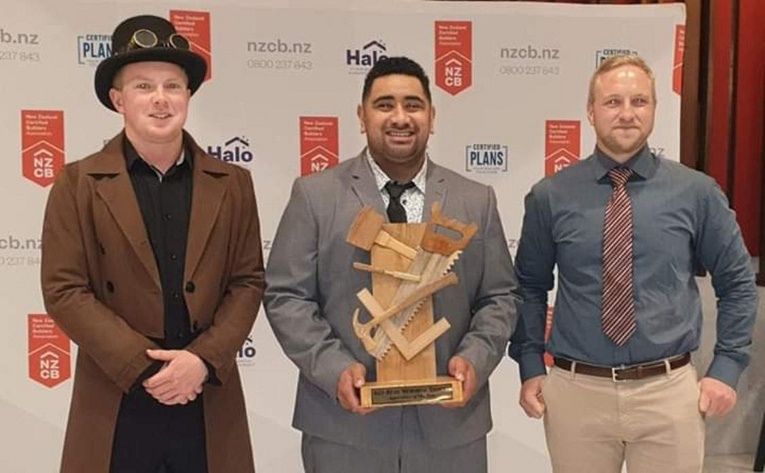 "After winning the Auckland regional competition, I went up against the country's best apprentices. We had to compete in a number of challenges, put together a CV and portfolio, sit a two hour exam and present to a judging panel. It was certainly a challenge for me, but coming out on top really gave me confidence that I was on the right path."
Laying the groundwork at Unitec
After such a big shift in direction, Cedric says joining Unitec not only gave him the skills and practical experience he needed, but introduced him to a solid network of people in the industry.
"If I could turn back time, I'd probably go to Unitec straight from high school! It provided a lot more one-to-one learning, compared to the large class sizes I'd experienced at University. There's so much opportunity for face-to-face interaction with lecturers and tutors - all of whom have actual hands-on experience. I really built and grew my networks, mixing with quantity surveyors, project managers, real estate agents and property developers. These connections have proven so valuable as I start to grow my own business today."
It was in 2020, amid the madness of COVID, that Cedric decided to start his new building business, Front Row Solutions, which focuses on residential new builds, renovations and alterations.
"Starting a new company in 2020 may have seemed risky, but the timing was actually perfect! The industry has seen such a boom over the past year, and I'm busier than ever. Before going out on my own I wanted to make sure I had a good grasp on lots of different types of building work. Some builders specialise in new builds, some in renovations - while I wanted to learn as much as I could across all areas.
"Today, I can honestly say I could cover a lot of the other trade work that is part of a residential build - I've developed a really broad skillset and that's certainly helped me in my new venture. In my role I'm still on the tools, but I also project manage the jobs, do all the admin and quoting, liaise with clients and sub-contractors, as well as teach my apprentices. I love it."
With one year remaining in his Bachelor of Construction, Cedric says he is looking forward to expanding his career in the future.
"Unitec's Construction Degree can go into one of three specialisations - quantity surveying, property development or construction management. I initially wanted to specialise in the latter because I felt it was most relevant to me, but I've since decided to go down the property development route. I realised I'm already doing quantity surveying and construction management as part of my day-to-day job, so I wanted to build a new skillset. My ultimate goal is to start getting into bigger and more complicated projects.
"I think the greatest thing about my time at Unitec was that it opened my eyes to different possibilities, different jobs. Part of my degree included completing business papers, which helped me understand that side of things and showed me I didn't have to be limited in what I could achieve. That's been invaluable."
---
Study New Zealand Certificate in Carpentry Order brochure Apply Now