Leading Kiwi infrastructure company Fulton Hogan is a long-time partner of Unitec and, as HR Manager Natasha Holloway explains, it's a relationship they find beneficial in a number of ways.
Fulton Hogan's informal relationship takes place via a number of channels, one being the company's Summer Internship Programme.
"Our Summer Internship programme sees a lot of Unitec and other students taking up short-term roles over their summer holidays," explains Natasha. "For us, it not only increases Fulton Hogan's exposure as a business, but helps students get a feel for what we do and ultimately whether contracting is the direction they want their career to go. Some decide contracting isn't for them and head down the consultancy path, but it's good they can work this out before they take on a full-time role."
Fulton Hogan also runs a Scholarship programme, where a handful of students are awarded an engineering scholarship each year - with those who have completed a summer internship being given first priority. But Natasha says it's Fulton Hogan's Graduate programme that gets the most significant interest from Unitec students.
"Unitec students make up about 20% of our graduate programme applicants. They come from the engineering faculty as well as business and quantity surveying. Unfortunately, we don't have as many opportunities for quantity surveyors, as we're more in the engineering space."
Unitec graduate profiles align with industry needs
Natasha believes the reason for the high proportion of Unitec graduates applying to Fulton Hogan is the correlation between Unitec's curriculum and the work Fulton Hogan does.
"Unitec's degrees appear to be very practical and really applicable to what we do here. We also find that a lot of Unitec students have had either work experience or a summer internship with us, so the relationship already exists."
Mutually beneficial partnership
Fulton Hogan's partnership with Unitec also sees the company attend a number of Unitec's annual events - including the Connect events (for both Business and Construction), Recruitment events and Job Seminar. Recently the business took part in Unitec's 'Effects of COVID-19' webinar, which replaced the 2020 Job Seminar.
"The webinar involved a number of New Zealand businesses coming together to talk about how COVID has affected the industry and hosting a Q&A with students. We were recruiting for our graduate programme at the time, so we were able to get a bit of a sales pitch in for that too!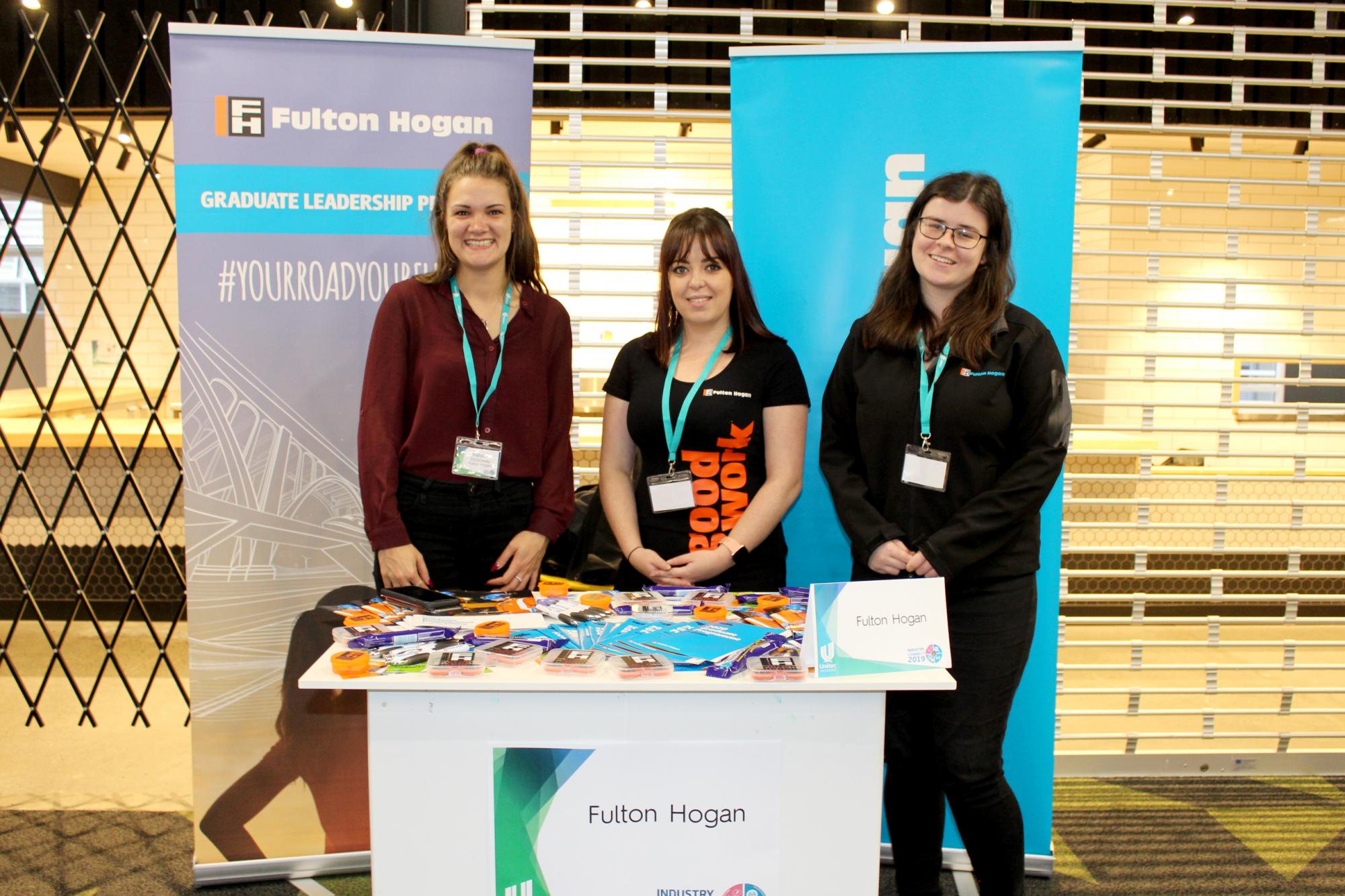 "We find that our engineers are always keen to get out there, so they actively participate in Unitec events and presentations wherever they can. Our recruitment team, myself included, attend the recruitment events, talking to students about what employers look for in a CV and what will make you stand out. Plus, Unitec graduates who are going through our programme are always keen to be part of the institute's events, or to help with mentorship for current students."
Natasha says Fulton Hogan gets a lot out of the relationship, from good candidates to positive business exposure.
Growing the relationship
"Attending Unitec events and running our Internship and Graduate Programmes all helps get our name out there. As one of the biggest players in New Zealand's infrastructure space, it's important for students to understand what it is Fulton Hogan does and how we work. It also gives us a chance to highlight what's important to us as a business. For example, we're very passionate about encouraging and promoting women to work in the engineering space, and have previously sponsored the Women in Engineering programme - run by an external body and available to all students and graduate engineers from Unitec as well as from other tertiary institutes. We enjoy working with Unitec and we're really keen to grow the relationship moving forward."