A direct link to fresh thinking
Richard Noble, Senior Associate at leading engineering firm Beca, says the company's relationship with Unitec allows them to tap into the latest industry talent and prepare graduates for the job.
Over the past few years, Beca - one of Asia Pacific's largest independent advisory, design and engineering consultancies - has been a regular attendee at Unitec's recruitment events, talking to students and graduates about what the company does and the opportunities available. They've also sponsored a number of Unitec awards, including the prize for Transportation Student of the Year. As Richard says, the relationship has led to Beca hiring a number of Unitec graduates.
"As an engineering firm, traditionally many of our graduates come from Auckland or Canterbury Universities, who have the country's largest Engineering faculties. However, in recent years we've seen a number of hires from Unitec, often as a direct result of our involvement in the Unitec Career Days, and we've been really pleased with the level of talent."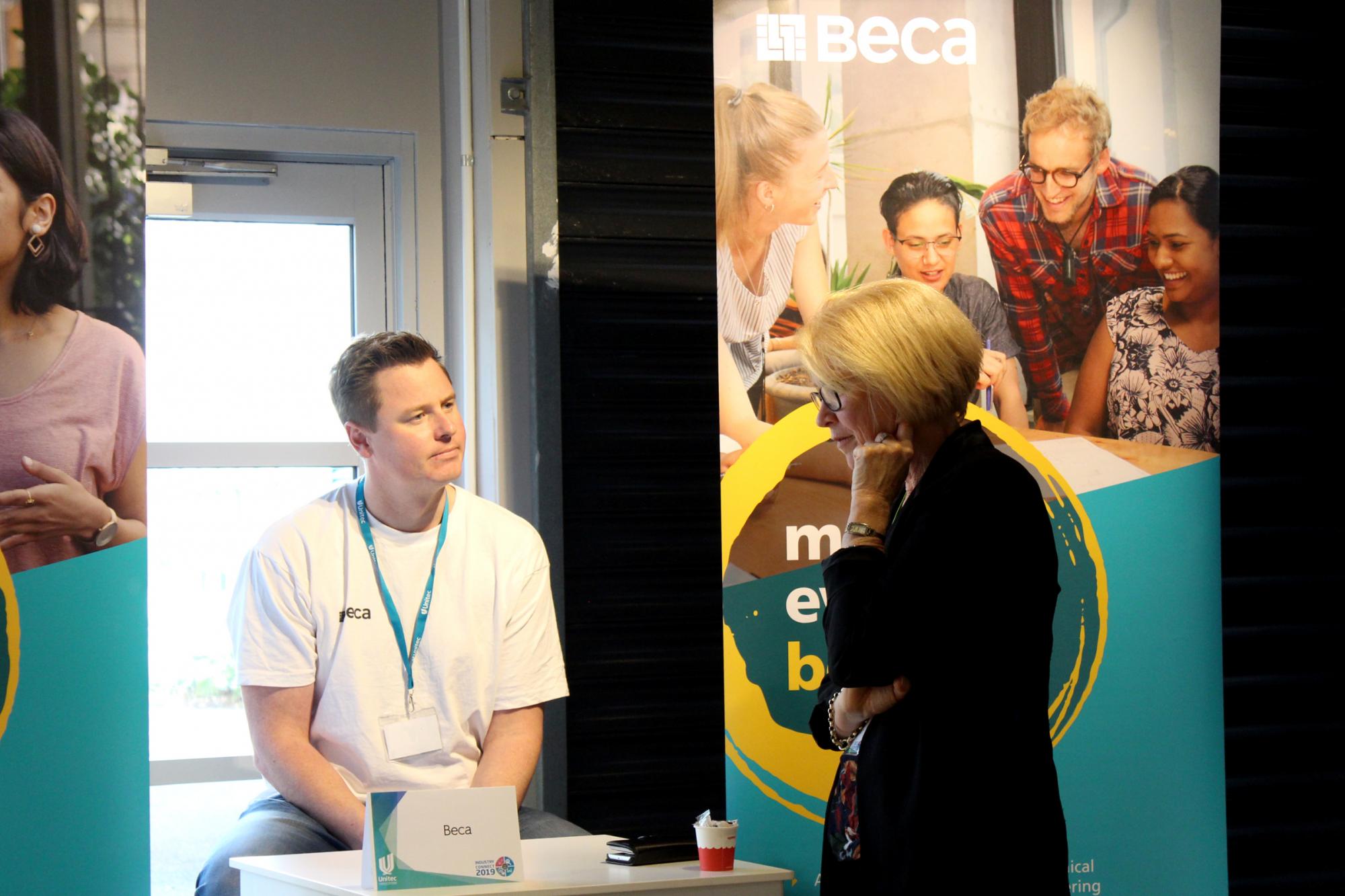 Richard believes Unitec graduates often come out with slightly different skillsets than graduates from other tertiary institutions.
"In particular, we can see Unitec students have done more hands-on project work - where they've actively learnt to use design tools such as 12D, a software package we use at Beca, and AutoCAD, which we use to produce drawings. This makes them particularly attractive to us; they leave their education with a bit of a head start, already using some of the tools.
"We also find Unitec students often have more life experience behind them. They've studied before, worked in different jobs, or started a family before they go on to train at Unitec. It gives them more of a broad skillset, more maturity and sometimes more readiness to learn."
Two examples of Unitec graduates who have gone on to work at Beca are Tulie Wu and Joey Sim, both of whom completed the Bachelor of Engineering Technology (Civil) at Unitec. Joey, who is approaching her sixth year with Beca, says she left Unitec feeling equipped to hit the ground running in her first role.
"I found Unitec really hands on. When I started applying for jobs I was able to say I knew how to use AutoCAD and 12D, which was a huge help. We were taught to use the software as part of our degree, and applied this knowledge through practical projects and assignments. When I started with Beca as a graduate, I found that many of the tasks I was given were familiar to me, thanks to my studies. In a big company like Beca you don't work on all aspects of a project yourself, but it's so valuable to have been given an awareness of the end-to-end process - understanding all the parts that go into the final result."
Providing career progression opportunities
Tulie started in a full-time technical role at Beca in 2018 following completion of her studies at Unitec, and feels that her degree put her in a great position to be starting out in her engineering career.
"Unitec's degree really prepared me for that first job. We used CAD to design our final graduate project - so it was all about putting into practice the tools we'd learnt throughout our degree. It meant that when I started at Beca, I already knew how to produce drawings and felt confident to start my role. When I first started at Beca I was employed as a CAD technician, and I've recently been promoted to graduate engineer."
Beca places a great deal of importance in providing career progression opportunities for its people - something Joey has certainly seen during her six years with the company.
"I started as a graduate and then became a junior engineer, working with senior engineers on large projects. In my fourth year at Beca I moved more into the client facing side of things - managing projects, doing accounts, dealing with clients. Starting my career on the technical side was really useful, as now that I'm managing jobs it's good to understand what the team are working on. For me that was a good career progression as I got to know all the different areas of engineering. There's a lot to learn, so I've been lucky to have had the opportunity to touch on each of these disciplines."
Richard says that while broad technical engineering knowledge is important, it's not just qualifications Beca looks for in a new hire.
"A lot of it comes down to finding good practical people. Most of our job is about delivering technical engineering solutions for our clients – having the technical engineering knowledge is obviously a critical piece of this, but you also need to be able to work well with different people and be a good fit for the company in order to achieve the end result. Certainly Tulie and Joey are great examples of this."
Overall, Richard believes Beca gets a lot out of the relationship with Unitec, and is keen to see it develop further in the future.
"From our perspective, working with Unitec means we have a direct link to new talent and fresh thinking. We meet graduates and can put faces to names when they go on to apply for roles. Equally, by talking to students and graduates about what we do on a daily basis and what we're looking for, we're able to give them an understanding of what a role might look like. The more we can have those discussions the easier it is for graduates to decide if this is the right engineering path for them, and the more equipped they feel to enter the workplace."