A career with endless opportunities
After leaving Auckland Boys Grammar in 2008, Yaser began studying commercial law and accounting at AUT. However, it wasn't long before he decided to move to an engineering degree at Unitec.
"The AUT degree was nothing like I imagined it would be!" says Shakib. "Law is so subjective; you can argue that one plus one equals three, whereas engineering is more black and white. One plus one will always equal two - I think that's what I like about it."
While he knew engineering was what he wanted to study, Yaser says his first year at Unitec wasn't easy.
"Because I wasn't in a good space personally, I wasn't applying myself and this was affecting my grades. My wake-up call was when the Head of Department gave me one final chance to pass a particular paper. I realised I'd been given this amazing opportunity and needed to make the most of it."
Yaser managed to turn his degree around, going on to complete more papers in his final year than anyone else in his year group.
"In 2014 I completed 14 papers; six per semester plus two over summer. At the time, Unitec's Civil Engineering Department didn't have a Summer School, so I successfully petitioned to start one and I'm proud to say it still runs to this day. A lot of Unitec students return to study while working, or with children. They genuinely want to learn, and Summer School offers them the additional flexibility to fit their studies around their lives.
"That year taught me so much about managing my time effectively. I think that's what a degree is really all about - it shows potential employees that you can commit to something and manage your time to see it through. I went from failing a paper twice to getting an A+ for it, ultimately achieving an A- average over 14 papers in one year. That achievement is something I still apply in my life. If I'm finding something difficult, I remember that if I was able to turn my education around, I can do anything."
Entering the job market
Yaser's goal was to be working as soon as he finished his degree, so he started applying for jobs in his final year. 43 job applications later, it was a recommendation from his Head of Department that secured him a role at environmental engineering consultancy Morphum Environmental.
"While I had no luck with 43 job applications, I believe my perseverance earned the respect of people around me. As a student it's important to understand that you're not alone in struggling to get a job early on! I explored every avenue, attended multiple CV writing workshops and became a regular at the Career Workshops that Unitec generously offers its students. It was a huge help, and when I saw many others also struggling to get a job I decided I couldn't keep this information to myself. So, I began co-hosting CV writing workshops with one of the Career and Employability Team member in order to help my peers get jobs. I genuinely believe this created the good karma that saw me recommended to Morphum!"
The role at Morphum allowed Yaser to get his foot in the door of the industry. He says he was able to hit the ground running, as 90% of what he'd studied in certain Unitec papers was applicable.
"Many of the assignments I'd completed at Unitec were literally the same as the projects I was working on at Morphum, largely because many of Unitec's lecturers have worked in the industry. I think that's what's so great about Unitec: it's so practical. You come into a role already knowing how to use the tools and calculations, having already worked on real projects, and you have lecturers who have been out on the field - so you know their advice is credible.
"I really valued the support I received from my lecturers and tutors - in particular Unitec's Learning Centre. I hadn't studied physics at high school, so when I started my degree I went there twice a week and an amazing tutor named Lance helped bring me up to the required level. He made physics fun for me and for that I will always be grateful."
In 2019, after a number of other roles, Yaser started his current job at civil engineering firm Maven. As a Civil Engineer, he helps design, plan and project manage large scale subdivision projects for new housing or commercial developments.
"The role requires calculations and modelling to make sure services like wastewater, stormwater and water supply pipes will work. It can get very technical, but it's hugely satisfying to see it all come to life. I project manage large projects from design right through to construction. I'm currently managing a big $150m commercial project in the South Island, spanning approximately 124,000 sqm. It's been a steep learning curve, but I've got such a good support system and I'm loving it."
Yaser says one thing he particularly enjoys about his job is the flexibility, which allows him to achieve a successful work-life balance.
"As a consultant I work a 40-hour week, but I can fit it around my schedule. The other great thing about a career in engineering is that it really has no ceiling - I can work anywhere in the world; I could open my own businesses or continue working within a company knowing I am eligible for every role there is. There are so many ranks to climb, from middle to senior management, to executive level. I could even move into finance if I wanted to, as we deal with budgets on a daily basis. The opportunities are endless."
Seize the day
On top of his full-time role, Yaser and his wife have started their own business, converting mainstream nursery rhymes to Arabic.
"After trying to teach Arabic to our young daughter and discovering there were no Iraqi songs or nursery rhymes, we decided to create Shakoo Maku TV: a YouTube channel where parents and kids can find traditional nursery rhymes sung in Arabic. We follow the copyright rules, translate the songs and give the tunes a Middle Eastern flavour. It's starting to take off in Iraq, and over the past year we've gained around 13,000 followers. We've even been approached by notable artists wanting to sing for us. The future is really exciting and the opportunities are endless."
Yaser's advice to students and graduates is to take every opportunity that comes your way - whether in study or in life.
"As a student I got involved wherever I could, working as a student representative, communicating ideas and supervising orienteering days, and I continued to work with Unitec after graduating - helping utilise their social media to grow student numbers. I'm now the Vice-Chair of the Auckland branch committee of Engineering New Zealand, which requires going to monthly meetings and setting up events. It's been great for my exposure to the industry, has opened up so many contacts and has helped me learn how large-scale non-profit organisations work. I also do a lot of community work in the weekends with my mosque – working with youth and helping people of our culture and religion who were forced to migrate from war-torn countries to integrate into New Zealand society.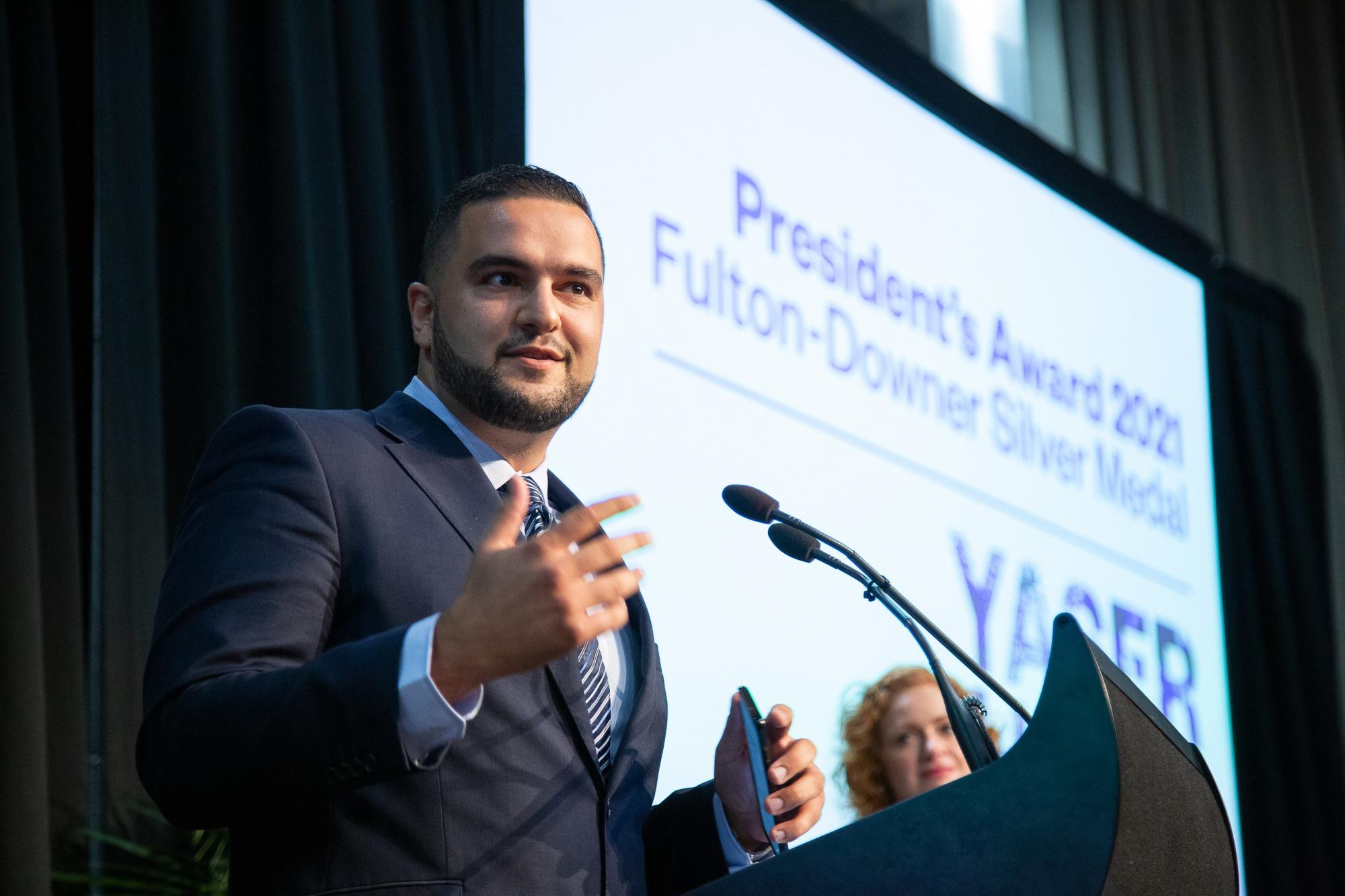 Yaser is pictured above while giving his acceptance speech for the President's Silver Medal Award given by Engineering New Zealand
"My other piece of advice would be to remember to look after yourself psychologically. If you're not happy personally you're never going to do well at study or work. Once you're in the right headspace you won't procrastinate, and your time will be well utilised. Also, if you're applying for jobs but receive nothing back, don't take this personally – it's not through any fault of your own. Once you get your foot in the door, finding jobs will be super easy and there's no limit to what you can achieve."
---