A bold career move from hospitality to construction
After moving to New Zealand from France in 2008, Clément Richer (middle) worked in hospitality for five years before deciding to go down the very Kiwi path of 'becoming a chippie' - and he hasn't looked back since.
Clément was 31 years old when he joined Unitec's Certificate in Applied Technology - Carpentry in 2013 (This qualification is now replaced with New Zealand Certificate in Carpentry). He says it offered the perfect mix of theory and practice, and that the flexible nature of the certificate fitted well with his life and work commitments.
"Making such a significant shift in career was a big change for me, but having the flexibility to study online from home and fit my studies around part-time work was perfect for me. The certificate was split into theory and practical work: we'd spend the mornings in the classroom and the afternoons building small houses out the back of Unitec, which were to be sold at the end of the year as removable homes. This hands-on experience was exactly what I needed to give me confidence as a builder."
Clément studied three days a week, Wednesday to Friday, and spent the other two days working with a builder who used to be a client at his bar.
"It was busy, but so worth it when it came to upskilling myself and gaining the required apprenticeship hours. To become a qualified builder in New Zealand, apprentice builders need to complete 8,000 building hours - 2,000 of which are obtained during your first year of the Unitec certificate."
Clément says Unitec's tutors and lecturers were a huge source of support throughout his studies.
"I was moving into a new industry, and I was also a bit older than many of the other students. Having approachable, knowledgeable tutors who could answer my questions and support me in my studies was invaluable. I have such good memories of my time at Unitec."
After his first year of study, Clément says the real professional experience began. Unitec found a residential renovation and extension company, based in Epsom, where he could start his apprenticeship.
"During the second two years of my degree, I'd still go into Unitec once a week to work on the theory side of things and connect with other apprentices. But most of the time I was out, on the tools, gaining the sort of real-life experience that really sets you up for a career - with Unitec supporting me along the way."
Clément remained with the same company throughout his apprenticeship. He says he's been lucky in that they placed a lot of trust in him from the beginning - giving him responsibilities and challenges that pushed him and helped develop his skills. In fact, these skills were recognised in 2016, when Clément won the National Certified Builders Apprenticeship Challenge.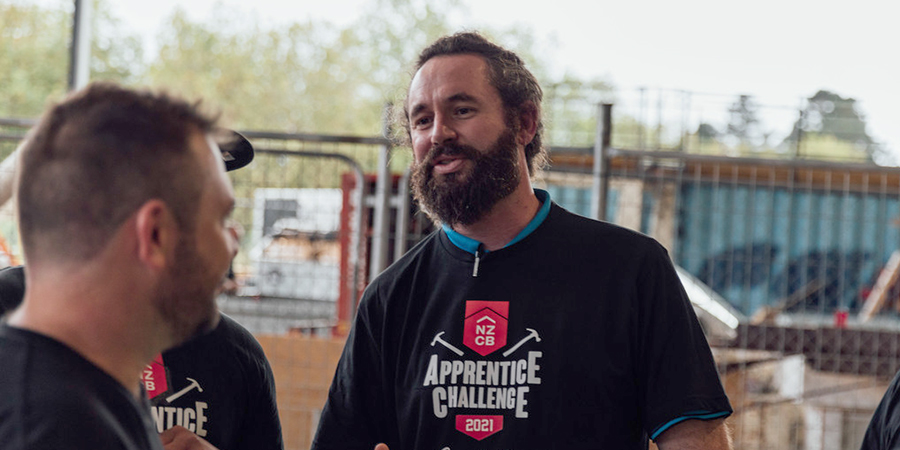 One of the judges Clēment talking to the contestant at the New Zealand Certified Builders Auckland Apprenticeship challenge 2021.
"I actually competed twice in the Apprenticeship challenge, and went on to win it in 2016, just after my wife and I had our first baby. It was a lot of hard work but really built my confidence that I could do my job well. It also opened up opportunities to meet people in the industry - including fellow builders and apprentices."
Clément became a qualified builder in 2018, a Licensed Building Practitioner in 2020, and has since joined the New Zealand Certified Builders Committee in Auckland, which has around 900 members.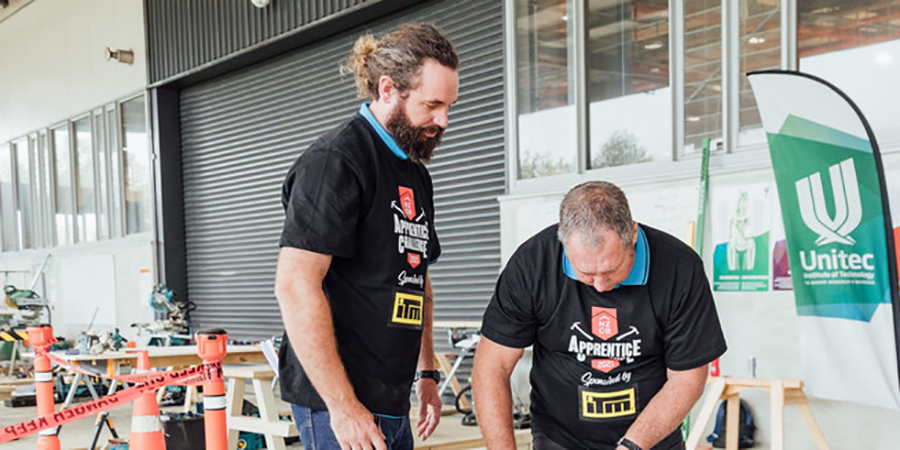 Clēment and a Unitec carpentry staff are inspecting the contestant's work.
"It's a great way to connect with the industry and progress your career. You're surrounded by really knowledgeable people, so you can't help but learn from them! There's certainly no lack of opportunities in the building industry. The company I work with is continuing to grow, and I love the fact I can jump from one interesting project to another. I recently worked on building a Passive House for example, which is an internationally recognised building standard that guarantees a warmer, drier, more energy-efficient home. It's a movement that's gaining huge momentum in New Zealand, so it was a great opportunity for me."
So, what's next for Clément? He says his goal is to one day start his own company, and he's currently looking at studying for a Bachelor of Construction at Unitec.
"Unitec really helped me find my place in an industry I love, and I'm looking forward to taking my skills to the next level. The construction industry is growing and moving all the time. I think the most rewarding thing is being able to take what you've learnt and apply it onsite every day - it's been such a positive career move for me.
---
Study New Zealand Certificate in Carpentry Order brochure Apply Now