05.10.16 - Programme confirmed for Uni Shorts 2016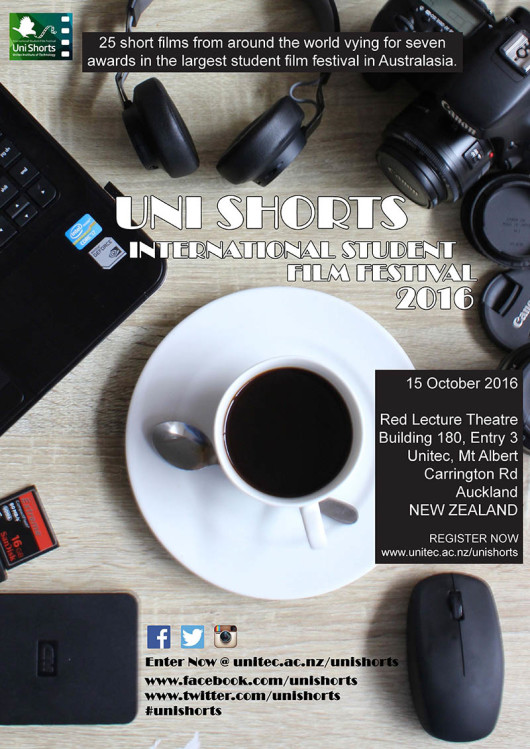 UNI SHORTS INTERNATIONAL STUDENT FILM FESTIVAL 2016
Venue: Red Lecture Theatre, Building 180, Entry 3, Carrington Rd, Unitec Mt Albert, Auckland
PROGRAMME – Saturday, 15 October
9:00am Registration Desk Opens
9:30am Introduction & Guest speaker
9:45am Screening session 1 (63 min)
Natural Attraction (Germany) – Animation 5:17
Generation Girl (Australia) – Undergraduate Fiction 9:55
Man in the cinema house (Philippines) – Experimental 17:06
Keeping Balance (Austria) – Documentary 5:12
Fragments of our memory (India) – Documentary 9:46
Lookout (Israel) – Undergraduate Fiction 18:16
10:50am Morning tea
11:15am Screening session 2 (60 min)
re/belief (USA) – Animation 6:55
Not like her (NZ) – Postgraduate Fiction 14:04
Probation (Germany) – Postgraduate Fiction 7:52
Jasmine and Jerome (NZ) – Undergraduate Fiction 4:34
Nvader (NZ) – Secondary Schools/Documentary 12:31
Razor (Russia) – Undergraduate Fiction 16:06
12:15pm Lunch
1:15pm Screening session 3 (60 min)
Sophie's World (NZ) – Experimental 8:01
The Rate's Cut (Spain) – Documentary 14:49
Horizon (NZ) – Animation 2:40
Two (NZ) – Secondary Schools/Fiction 9:04
Disillusion (China) – Experimental 5:56
Neverland now (Germany) – Undergraduate Fiction 19:02
2:15pm Afternoon Break
3:00pm Screening session 4 (60 min)
Shadowboxer (Austria) – Undergraduate Fiction 17:33
LaValla (Australia) – Documentary 8:31
Warm Snow (Israel) – Animation 5:26
Terpsichore (NZ) – Experimental 2:09
Time Machine (NZ) – Secondary Schools/Fiction 3:10
To The Rescue (NZ) – Secondary Schools/Documentary 5:06
Connected (NZ) – Secondary Schools/Fiction 18:38
4:00pm Conclusion of Screening
4:10pm AWARDS NIGHT
4:30pm Refreshments
5:00pm End
01.08.16 - Uni Shorts announces short film finalists for 2016 festival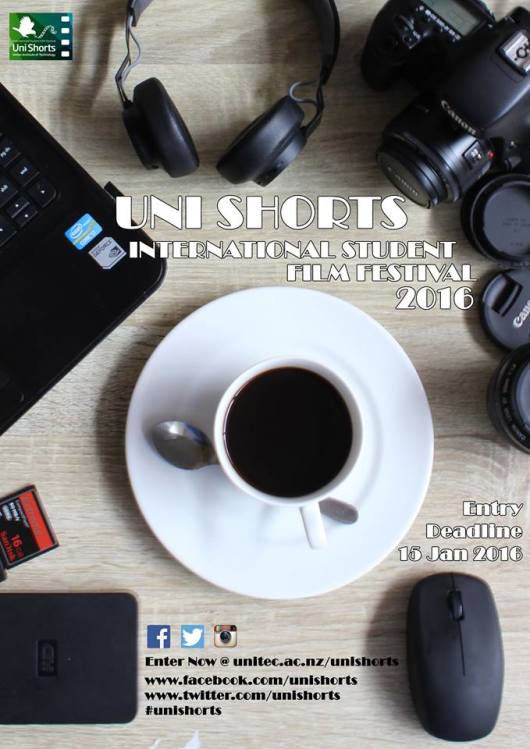 Twenty five student-made short films from around the world have made the final cut for the 2016 Uni Shorts International Student Film Festival which will be hosted at Unitec in Auckland in October. Films from USA, Germany, Spain, Philippines, India, Australia, Israel, Russia and China will screen in competition with films from host nation New Zealand. In addition, five films will contest the New Zealand Secondary Schools category. A date in October for this year's festival will be confirmed shortly but it will be held again at the Unitec Institute of Technology, Mt Albert campus in Auckland.
UNI SHORTS 2016 – FINAL SELECTION
FILM DIRECTOR SCHOOL GENRE
1. re/belief, Raymond McCarthy Bergeron, Rochester Institute of Technology/USA, Animation
2. Natural Attraction, Marc Zimmermann, Filmakademie Baden-Württemberg/Germany, Animation
3. Horizon, Eel with it, Media Design School/New Zealand, Animation
4. Warm Snow, Ira Elshansky, Bezalel Academy of Art and Design, Israel, Animation
5. Disillusion, Qian Zhao, Shanghai Theatre Academy/China, Experimental
6. Sophie's World, Hao Bi, University of Auckland /New Zealand, Experimental
7. Terpsichore, Ken Clark, Canterbury University/New Zealand, Experimental
8. Man in the cinema house, Bernard Jay Mercado, University of the Philippines Film Institute, Experimental
9. LaValla, Sasha Folker, Queensland University of Technology/Australia, Documentary
10. Keeping Balance, Bernard Wegner, Filmacademy Vienna/Austria, Documentary
11. The Rate's Cut, Pico Nicolas, ECAM/Spain, Documentary
12. Fragments of our memory, Ajinkya Kulthe/N. Wakhloo, Sri Aurobindo Centre for Arts & Com/India, Documentary
13. Lookout, Noa Gusakov, Sam Spiegel Film & TV School/Israel, U/Fiction
14. Neverland now, Georg Pelzer, Bauhaus-Universität Weimar/Germany, U/Fiction
15. Razor, Alexey Beliakov, Russian State University of Cinematography, U/Fiction
16. Generation Girl, Megan Baker, Sydney Film School/Australia, U/Fiction
17. Shadowboxer, Jannis Lenz, Filmacademy Vienna/Austria, U/Fiction
18. Jasmin and Jerome, Paloma Schneideman, Unitec Performing & Screen Arts/New Zealand, U/Fiction
19. Not like her, Hash Perambalam, University of Auckland/New Zealand, Postgrad Fiction
20. Probation, Thomas Eggel, Hamburg Media School/Germany, Postgrad Fiction
21. Time Machine, Anna Hall-Taylor St Cuthberts College Sec School
22. Two, Rawiri Takinui, Aorere College/ New Zealand, Sec School
23. Connected, Amazir Aknine, Christ's College/ New Zealand, Sec School
24. Nvader, Hunter Williams, St Kentigern College/ New Zealand, Sec School
25. To the Rescue Mason Cade Packer Kapiti College/New Zealand Sec School
TOTAL: 25 films
29.02.16 - Entry Deadline extended to March 11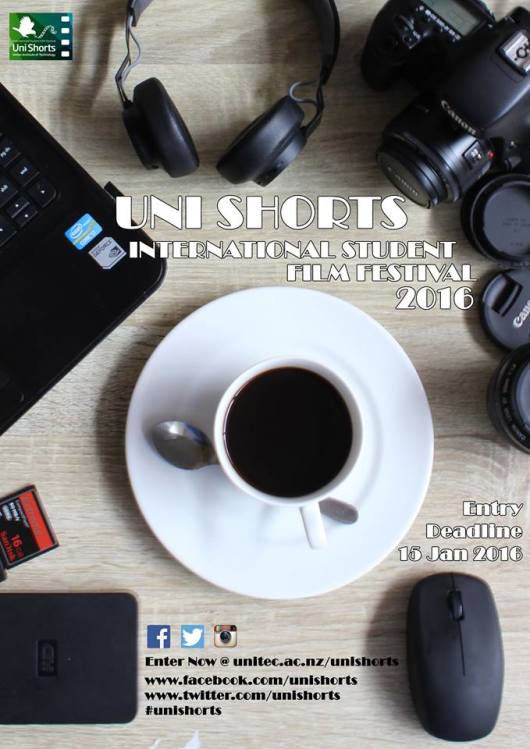 Great news! As many schools are only returning from their holiday break, we have extended the entry deadline to 11 March 2016.
So if you haven't submitted your film to Uni Shorts 2016 yet, and your film is 20 minutes or less and entirely student-made as part of a course of study between Nov 2013-Dec 2015, we will accept your film as long as your entry is postmarked on or before 11 March.
While we have received many entries already, we would love to see more student films in the Experimental (Non-Narrative), Animation, Documentary and Post-graduate Fiction genres/categories. So a special note to all Design and Animation schools, we would welcome your student work!
Go to www.unitec.ac.nz/unishorts to enter now!