Joint Library
Check out this video tour of the Waitakere Library and Learning Commons.
Unitec's Waitakere Library is part of Waitakere branch of the Auckland City Library, a joint library shared by Unitec and Auckland Council.
The shared library is unique in New Zealand, with staff and students able to benefit from the diverse nature of the resources available. The resources of the two libraries shared.
On Level 2, Unitec books are located at the far end (Trading Place end), with Auckland Libraries books in the front, close to the Information Help Desk.
The third floor and the Te Puna Ora o Waitakere Learning Commons are areas designated just for Unitec students.

The wireless network allows the library laptops to be taken to Unitec Buildings 500, 510 and all three levels of the library building. Study spaces include a bookable group study room. As a small branch, the Waitakere library staff get to know you well and provide a friendly, down to earth service.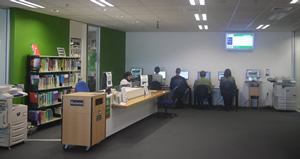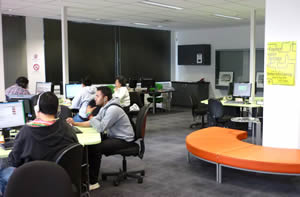 Te Puna Ora - Learning Commons
See the Te Puna Ora o Waitakere - Learning Commons page
Auckland Council links