Check out this
video tour of the Main Library
.
The Main Library is our largest library conveniently located in B110 near The Hub. It caters for programmes taught at the south end of Mt Albert Campus, including education, business, computing, communication, natural sciences, construction, languages, sport and trades. Te Kohinga Maori is a collection of resources which focuses on subjects pertaining to Maori and Maori culture.
As well as a variety of study spaces, there are 7 bookable group study rooms upstairs: 3 near the group learning area and 4 at the back of the Library in the middle.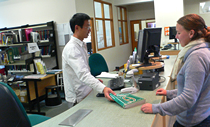 Next to the Main Library is the Student Computer Centre which is managed by the Library.
See also the other library on the Mt Albert Campus: The Building One Library