Library branches and computing spaces:
Contact information:
---
Our purpose
Unitec Library supports Unitec's aspiration, strategy and values, and the principles of Te Noho Kotahitanga (the partnership). Library staff provide world class information services and resource solutions to Unitec communities (including Unitec students and staff). We are here to help you.
Library overview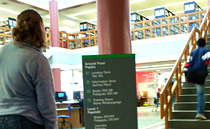 Unitec library consists of four library branches, two learning commons (Te Puna Ora o Waitakere and Te Puna Ora o Albany) and a student computer centre. Our curriculum focused collection varies from branch to branch in accordance with what is taught at that location. See our hours , locations and maps.
Library Policy
Unitec Library services and resources are provided to meet the teaching, learning and research needs of Unitec's students and staff. Every authorised user of the Library's services and resources has both a right to work without undue disturbance or distraction and a duty to respect the rights of others. The Library policy details these rights and duties and is written for the benefit of all Library users. See the Library policy.
What we have
The larger libraries at Mt Albert and Waitakere have a range of study spaces and group study rooms. As well as the traditional library spaces we also provide several substantial computer labs / learning commons for student use. Printing and copying is available in all library branches and labs (charged per page). Computers are available in all library branches, with laptops also available to loan. Scanners are also usually available. More about our facilities
We have over 218,000 books, either in print or online, and 550 print journal titles. In addition, there are over 85 research databases providing access to approximately 50,900 online journal titles. You can access the library catalogue and online resources both on and off-campus. Access to electronic resources is restricted to staff and students of Unitec. Click here for more information about access. More about our collections
Our services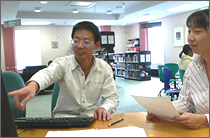 Our specialist information librarians will help you find the material you need. We will do this in person at the information desk, via email or live chat. We also offer workshops for classes on how to locate, evaluate and use information effectively. These can be tailored to particular course requirements. Alternatively, use our online tutorials which explain how to use the catalogue and research databases. Use your student or staff ID card to borrow items.
For each academic area in Unitec we provide dedicated liaison librarians who work together with teaching staff to ensure library resources are relevant and up to date, in accordance with curriculum needs. Other specialist services include creating course reserve lists, assisting distance students and postgraduates to get access to resources they need, and assisting with the use of endnote bibliographic software. We strive to provide flexible, customised service. We value feedback on any aspect of our service. More about our services
Your library record
You are able to access your borrowing information (including any fines owing) and request and renew items by logging in via the "My Library Record" link on the top left menu of this website or top menu of the catalogue. Remember to log out if you are using a public terminal. More about logging in and using our catalogue.
Who we are
Our people are librarians with excellent professional, academic and often technical skills, and wide ranging experience relevant to the academic environment we work within. We are passionate about helping students develop and succeed.
Library assistants and supervisors in our Lending teams are skilled in the library's automated circulation system and understand student needs and pressures, especially as many are recently students themselves. They look after all the borrowing and renewing, meeting room bookings, card top ups, fine payments and related enquiries. Plus they provide vital course reserve services.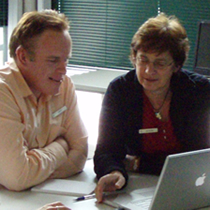 Our Information Librarians are highly qualified research and subject specialists, who work closely with students and staff, providing guidance and training especially in the use of our catalogue and electronic resources.
The Collections and Electronic Services teams are technical specialists who work behind the scenes purchasing and processing books and journals, and managing electronic resources.
Our Learning Commons and Student Computer Centre advisers are adept at handling an array of library and technical queries, as well as ensuring that facilities and resources are shared fairly.
To find the key contacts and our team and staff listings, see the Contact Us page.
Where we are
We are located at the north and south ends of the Mt Albert campus, as well as Waitakere and Northern Campus. More about our locations and how to find us.
Make a suggestion
We welcome your feedback. To make a comment or suggestion use our Feedback form or contact us by email.

Page last updated: 27 March 2013