We are currently rebuilding our campus around a vibrant, modern and fit for purpose education hub at the southern end of the site.
The rebuild project will take approximately eight years to complete and will touch every part of our daily life on campus. The new facilities will be state of the art, flexible and offer our teachers and learners a variety of spaces to live, work and learn.
The first stage of the project has been the re-build of the student hub 'Te Puna' and the development of a new Trades, Engineering and Construction facility at our Mt. Albert campus.
Te Puna Delay FAQs (click to expand)
Te Puna Delay Opening
The building work in Te Puna is on track to be completed by Sunday 23 July, and we are now waiting for the final green light so we can open this space up to you. There has however been a slight delay in the certification that has to be issued, meaning we are unable to open the building to students on Monday 24 July as planned.
We are now focused on making sure this delay has minimal impact as we are committed to providing a positive experience.
Need to know:
Student Experience staff will continue to operate out of Buildings 28 and 30
The student kitchen area will remain in the existing Hub building
Below are a few questions and answers to guide you in the right direction:
When will it open?
Te Puna now has now been rescheduled to open within the next two weeks. We will be updating this answer on Monday 24 July.
Why is the Te Puna opening delayed?
We have had a delay with the timing of our final compliance. This is needed to clear the building for public use and therefore impacts on our planned open date.
Will my timetable be affected?
Unforunately there are a number of classes that have been impacted. There are four rooms affected, and ONLY THE LOCATION WILL CHANGE.
These rooms have temporary locations assigned until Te Puna opens. These room and their temporary new rooms are below:
Timetabled Room: 180-2044
New Room: 110-2020


Timetabled Room: 180-2048
New Room: 110-1001


Timetabled Room: 180-2043
New Room: 023-1037


Timetabled Room: 180-2045
New Room: 110-2030
For a full list of classes effected by the above room changes, please click here.
There will be signage up at your class location on your timetable to help direct you to your temporary class location.
Where can I access the Library?
The Library will operate a pop up service room the Building 110 Issues Desk. There will be staff members to retrieve books from the library collection area that has been moved inside Te Puna. Library staff will still be available at the Waitākere and B1 Libraries, and the service there will be unaffected. Students can continue to use all the electronic Library resources.
Where can I buy food and drink?
The Refuel container café will be located outside Building 110 until 15 August. There is also convenience food located from Unimart inside B112.
What can I use as a study space?
Temporary study spaces will be created inside Building 110. There are also other study spaces across campus located at:
Building 110 (Open space and empty classrooms)
Building 112 Room 2004 Pacific Centre
Building 171 Pukenga
Building 63 Student Space
Library Building 1
Library Waitākere
Will the Mataaho Building be delayed as well?
No, the Mataaho building will be opening as planned on 25 July.
Need more help?
If you need to talk to someone at Unitec, please call 0800 10 95 10, or email marketing@unitec.ac.nz. We will aim to get back to you as quickly as possible.
Te Puna (Hub)
In the first stage of our major campus transformation, we've rebuilt our student hub 'Te Puna' at our Mt. Albert campus. This creates a vibrant core at the heart of our world-class campus.
What's in the building?
Te Puna pulls together a number of services from across the campus into a single building. You can get a sneak peek at the floor plan here and learn more about the services below: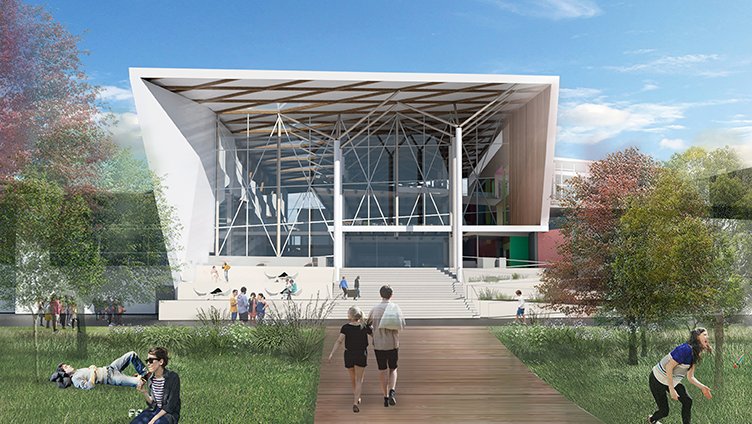 Opening Hours
| | Mon - Thurs | Fri | Sat- Sun |
| --- | --- | --- | --- |
| Te Puna (Hub) | 7am - 9pm | 7am - 8pm | 7am - 4.30pm |
| Library | 8am - 9pm | 8am - 6pm | 9am - 4pm |
| Student Central & Ask Me Helpdesk | 8am - 8pm | 8am - 8pm | 9am - 4pm (Sat only) |
| Student Experience | 8am - 5pm | 8am - 5pm | Scheduled workshops only |
| Wellness Centre | 8am - 5pm | 8am - 5pm | Closed |
Trades, Engineering and Construction
We have also completed the development of a new Trades, Engineering and Construction facility that features versatile, multi-purpose and flexible learning spaces giving students from different programmes and courses the opportunity to collaborate and learn from one another.
Opening date: Monday, 24th July 2017