Explore your options
Unitec's English language programmes will improve your reading, writing, listening and speaking skills. From elementary to advanced English speakers, you can study English as a second language at different levels.
You will learn practical English for use in life, study and work – and this includes reading, writing, listening and speaking skills. Some of our English language programmes include work experience, so you can practice your skills in a real work environment, and take courses that focus on skills you can use at school. If you want to continue your education here at Unitec, we have up to four start dates per year. You can choose if February, May, July or September/October is best for you.
You'll feel right at home too. Our students come from many different backgrounds and cultures. There are shared lunches, welcome ceremonies for new students, and student advisors to help you settle in.
Plus the IELTS Test is available right here on campus.
Programmes and study path
Start with a programme that suits your qualifications and/or experience, then progress to a level that achieves your goals.

| PROGRAMME | LEVEL | DURATION | CAREER OPTIONS | START DATES |
| --- | --- | --- | --- | --- |
| New Zealand Certificate in English Language (Level 2) pre 2018 | 2 | Full-time for 16 weeks | | Programme no longer offered |
| New Zealand Certificate in English Language (Level 2) | 2 | Full-time for 16 weeks | Improve your English for work in a professional field or continue your studies. | February, April, July or September |
| New Zealand Certificate in English Language (Applied) (Level 3) | 3 | Full-time for 16 weeks | Improve your English for work in a professional field or continue your studies. | February, April, July or September |
| New Zealand Certificate in English Language (General) (Level 3) | 3 | Full-time for 16 weeks | Improve your English for work in a professional field or continue your studies. | February, April, July, September |
| New Zealand Certificate in English Language (Level 3) | 3 | Full-time for 16 weeks | | Programme no longer offered |
| New Zealand Certificate in English Language (Academic) (Level 4) | 4 | Full-time for 16 weeks | Improve your English for work in a professional field or continue your studies. | February, April, July, September |
| New Zealand Certificate in English Language (General) (Level 4) | 4 | Full-time for 16 weeks | Improve your English for work in a professional field or continue your studies. | February, April, July, September |
| New Zealand Certificate in English Language (Level 4) | 4 | Full-time for 16 weeks | | This programme is no longer offered for new enrolments |
| New Zealand Certificate in English Language (Academic) (Level 5) | 5 | Full-time for 16 weeks or part-time options available. | Improve your English for work in a professional field or continue your studies. | February, July, September |
| New Zealand Certificate in English Language (Level 5) | 5 | Full-time for 16 weeks | | This programme is no longer offered for new enrolments |
| Bachelor of Arts (English as an Additional Language) | 7 | 3 years of study at their home university (either years 1, 2 and 4 or years 1, 2 and 3); 120 credits (1 year) at Unitec. | Improve your English for success in further undergraduate or postgraduate study and/or professional employment. | |
| Graduate Certificate in English as an Additional Language | 7 | Full-time for 15 weeks or part-time options available | Improve your English for work in a professional field or continue your studies. | Not currently offered for new enrolments |
Free English classes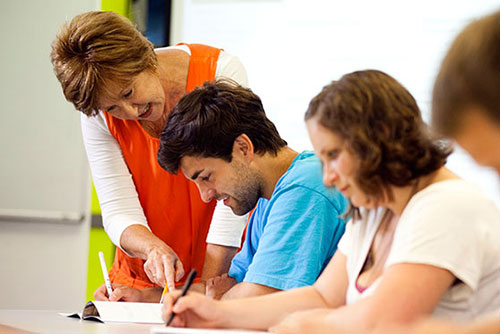 If you would like to improve your reading, writing or spoken English skills we have a number of options for you: