Hub redesigned for the future
Changes are afoot for our Mt Albert campus and one of the most visible is about to begin.
New drawings for the redesigned central Hub have been released, showing a much transformed space.
The new hub will be a modern and flexible place where students and staff can gather, study, seek support or relax. The work to The Hub will precede other changes and demonstrates the direction we are taking with redevelopment.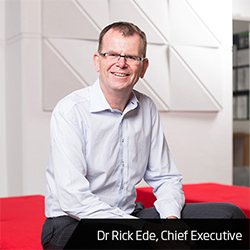 "The Hub is going to support our other goals for education," Unitec CE Dr Rick Ede says. "It will be technologically enabled, it will allow students to access information on their own terms, to work together and collaborate with their peers studying other courses.
"It will promote a blend of online, face-to-face and collaborative learning."
The $22m project will see the existing outdoor hub covered and new balconies installed.
ASC Architects director Graeme Scott says the design springs from the latest thinking around learning environments, and will bring new and exciting student spaces into the heart of Unitec.
"There will be a mix of spaces, ranging from café-style open environments merging with collaborative study areas, semi-enclosed library spaces, study pods overlooking the main space, and enclosed study and meeting rooms," he says.
"Some of the more interesting features are the new floating floors to be inserted above the current courtyard, the timber grid supporting a new high-level roof and the living green wall. The new main space will be triple-height, enclosed by richly textured walls and opening out to the east to the green outdoors through a large glazed wall. It will be a world-class student gathering and learning environment."
The new space also incorporates environmentally sustainable design features such as natural ventilation to reduce the use of air conditioning. The area will be fenced off this August to allow enabling works to begin. Full construction is scheduled to commence this summer to be ready for opening in mid-2017.
Living wall to bring nature in
A 10m x 4m living wall of native plants is one design feature that has a distinctly Unitec feel.
Designed by Landscape Architecture head of department Renee Davies and Living Urbanism director Jon Avery the wall will use and test a prototype product and will be an ongoing research project for the department. The wall will be constructed of a plywood backing and new plant "pockets" made from recycled plastic bottles.
"One of the cool things about it is it's different from most other green wall systems, it's a bit more modern with the colour range in the background and we'll be using recycled PET plastics," Davies says.
"It's been an opportunity for our department to be directly involved in shaping the look and feel of the place. It will be a trial of a new product so staff and students can monitor it and how plant species go and explore opportunities for how lichens might work. It will be a living research project at the heart of the campus."