Community Development Conference 2015
Bringing together practitioners, academics and students to share their knowledge, research and stories about community development.
Come and celebrate the rebirth of a transformative discipline. Unitec has been active in community development for over 25 years, and we will begin 2015 with a dynamic conference for practitioners, academics and students.
Major themes include placemaking, community economic development, diverse communities and re-claiming democracy, with quality assured papers, poster presentations and practical skills workshops.
The conference will showcase community development training opportunities and initiatives. It will also celebrate the launch of Whanake, the Pacific Journal of Community Development and Social Enterprise.
Download the draft conference programme (PDF).
Find out who is presenting - download the presentation details (PDF).
Who should come?
Community development practitioners, change-makers, academics, government and local government leaders who want to work with communities, development specialists and community entrepreneurs from across the Pacific region.
Conference fees and registration
Thank you for your interest in attending the conference. We regret to inform you that all conference seats are now sold out. However we understand that there could be last minute withdrawals from confirmed participants and we would like to offer that opportunity to wait-listed registrations.
If you would like to register to be on the wait-list for the conference, please email your name, phone number and organisation to Abhishek at amasih@unitec.ac.nz. We would very happy to invite you if any seats fall vacant.
If you have registered earlier and have not paid the conference fee, please click "Payment online" to pay. Payment online »
Rates applicable to participants registered before 10th January 2015 and presenters (include 10% earlybird discount).
Government and Private Sector- $270
NGOs and community organisations - $225
Students - $108
Daily rate - $144
Rates applicable to all registrations after 10th January 2015.
Government and Private Sector- $300
NGOs and community organisations - $250
Students - $120
Daily rate - $160
Accommodation and transport
View accommodation and transport options close to the conference venue.
Catering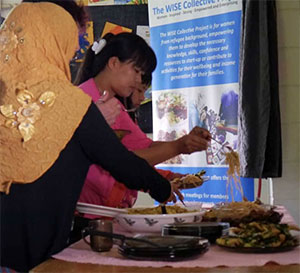 Catering for the conference will be provided by the WISE Collective; Women Inspired Strong Empowered and Enterprising. The collective is a partnership project between Auckland Refugee Community Coalition (ARCC) and Auckland Regional Migrant Services Trust (ARMS). The WISE Collective project is for women from a refugee background, empowering them to develop the necessary knowledge, skills, confidence and resources to start-up or contribute to activities enhancing their wellbeing and income generation for their families.
To place catering orders contact Yehuala Aboye at lastfrut@yahoo.com.