Communications for developing nations
Working in developing nations around Asia and the Pacific has led to a career researching communications for social change for Associate Professor Evangelia Papoutsaki.
She has worked around the world, but moved to the Pacific for the first time after getting a job in Papua New Guinea with a British development agency. "I went there and fell in love with Papua New Guinea and the Pacific. What an amazing culture, I'd never been exposed to anything like that before. I had an amazing rapport with my colleagues and my students, an amazing bonding, and ever since I have kept in touch with most of them."
Her role in Papua New Guinea was to create a curriculum that focused on development and communication. "The intention behind this was for the students to develop a better understanding of the development needs of their country so that they can serve their communities better as communicators, journalists, and media specialists."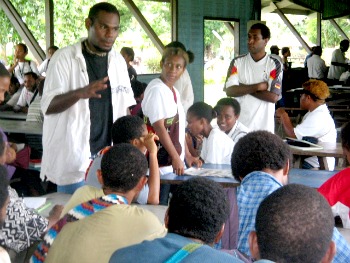 She also co-published several books about Papua New Guinea and the Pacific region. "I had noticed how little local research in the Pacific is authored and published locally by locals. So I thought I'm not going to write about them, I'm going to help them write about themselves. So the books I have done with colleagues from the region are to do with mentoring young students and emerging researchers, teaching them to do research, and then letting them go out to research and record their own realities. We publish this research in books locally and regionally so that they are accessible to them and their local readership."
As much as she loved living in Papua New Guinea, Papoutsaki says she knew she couldn't stay there forever. "You're there to share your knowledge, and then someone has to take over and do what they want to do with their own situation. I felt that the longer I stayed, the more I was taking the chance of a local person to do something with that position."
Because she wanted to remain in the Pacific, she was advised to try living in New Zealand, where she could continue her research work with Pacific Islanders. "I've done work with Pacific diasporas here in New Zealand. I used to work mostly with Melanesians, and in New Zealand there are mostly Polynesian people, so I have been really privileged to work with two different groups of Pacific Islanders."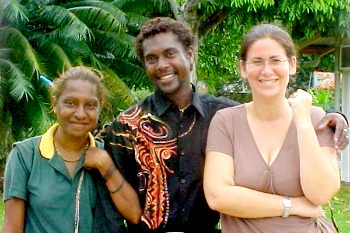 Her recent research involves a regional collaborative group project for the Pacific Media Assistance Scheme (PACMAS), mapping the media and communication situation in 14 different Pacific Island nations, on a range of issues like climate change and health. "We worked exclusively with Pacific Island researchers and we now have in total about 170 in-depth interviews. PACMAS is going to use it as a way of monitoring their media activities in the Pacific."
Papoutsaki says that good development-focused researchers not only ask more questions, they're also prepared to go deeper into the issues that surround their subject. "You need to go more in-depth to understand the structural causes of social and economic inequalities. Perhaps by understanding them, you can find better solutions, rather than trying to find quick remedies. Rather than just saying 'Here's some aid money, we'll buy you some medicine', you can ask 'Why is it that these people don't have good access to medicine?'
Find more information and the full article here.