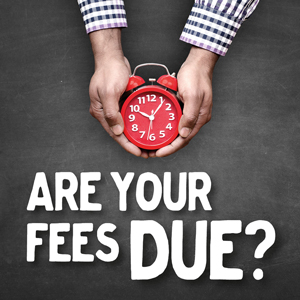 Now you've enrolled and you've got your invoice, you'll need to sort out how you'll pay your fees.
Now that semester two has started, all unpaid fees are overdue. We understand arranging payment sometimes can be tricky, so here's a few ways you can get things sorted quickly so it doesn't impact on your study or worse still, leaves you with a debt collector on your case.
Apply for a Loan & Allowance
Both Student loans and allowances are provided by Studylink to eligible students and can help pay for your course and living costs while you study. Applications for your loan and allowance are done online through their website. If you need help our Student Support Advisor team are able to help you help walk through the process. They're also able to provide support in finding alternate ways to fund your study.
Pay yourself
You can pay your fees in person, please visit a cashier located in Te Puna (B180), Mt Albert campus, or Building 510, Waitākere campus. Payment may be made by cheque, EFTPOS, or credit card - sorry we can not accept cash. You can also head to MyPortal, and from Student Self Service, use the Finances section to make a online payment.
Student loan declined? Need to set up a payment plan?
For some students we are able to offer the ability to pay your fees off over time. You can apply for this online by completing the application form below - applications are assessed on a case-by-case basis.
Questions or problems?
If you're lost or having trouble talk to us early - we are here to help you and can work closely with you to work through any issues you may have. Please visit our Student Support Advisors, Student Experience, Level 2, Te Puna (B180) or email life@unitec.ac.nz for more help.